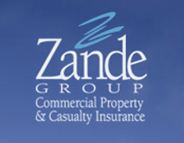 41% of Chicago metro area businesses claim it would be harder to survive without the use of mobile apps.
Northbrook, IL (PRWEB) October 02, 2012
Illinois-based insurance agency, Zande Group, which specializes in commercial insurance and risk management solutions, understands current economic conditions have some area businesses, particularly small businesses, treading water.
A recent Crain's Chicago Business article suggests that 41% of Chicago metro area businesses claim it would be harder to survive without the use of mobile apps to keep their businesses organized and effective. That's 6% points higher than last year, according to an AT&T Small Business poll.
Here are the top 5 free apps that Illinois entrepreneurs and small business owners find useful:
1. Shoeboxed – for organizing and scanning receipts in one central place
2. Pulse – for organizing news sources and staying current, plus an easy way to share relevant news on social media networks
3. Flow – a task management app that helps to keep team members organized and on track
4. Square Register – an app designed to make it easy for businesses to accept credit card payments through mobile devices
5. Dropbox – a free cloud-storage service, makes it easy to share documents and other files with employees and customers anywhere in the country or the world
Zande Group hopes your business finds these apps and services useful. The agency provides businesses in Illinois and throughout the U.S. with comprehensive insurance and risk management solutions. For more info call 888-488-0208.
About Zande Group:
Located in Northbrook, Illinois, Zande Group specializes in solving even the most difficult insurance and risk management problems for corporations to small businesses. Its agents are able to provide clients with tailored commercial insurance solutions, locally and throughout the United States. The agency represents top carriers, which allows it to build a unique and comprehensive insurance package that caters to the specific needs of a company. Whether business owners are in need of liability coverage, workers compensation or even risk management, Zande Group has it all.