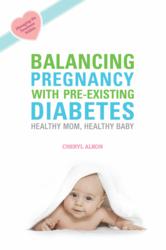 "full of myth-busting accounts of women who have been there"-Michelle Kowalski, dlife.com
New York, New York (PRWEB) October 31, 2012
Lifetime Television will premiere a television remake of Steel Magnolias, the story about six Louisiana women bonding together as one deals with type 1 diabetes and pregnancy, on October 7. The film stars Alfre Woodard, Jill Scott, Phylicia Rashad, Adepero Oduye and Condola Rashad, who plays Shelby, the daughter with diabetes, and Queen Latifah as her mother, M'Lynn. In the original 1989 film, Shelby (played by Julia Roberts) gets pregnant against medical advice, has a healthy baby, but ultimately dies of kidney failure.
Cheryl Alkon, the author of "Balancing Pregnancy With Pre-Existing Diabetes: Healthy Mom, Healthy Baby," is available for comment about how women with diabetes today can have healthy pregnancies and babies, and remain healthy themselves long afterwards. "Steel Magnolias reflects a time in diabetes management when most of the current technologies that manage diabetes did not exist," said Alkon, who has lived with type 1 diabetes for 35 years and is the mother of two healthy children, aged 5 and nearly 2. "With blood glucose monitoring, insulin pumps, continuous glucose monitoring, and fast-acting insulin—few of which were available in the 1980s when Robert Harling, Steel Magnolias' author, recounted his sister's experience living with type 1 diabetes—women with diabetes today can have healthy pregnancies and live to enjoy their children for many years afterwards."
Harling's sister Susan ultimately died in 1986 after living with type 1, but countless women today are living testimony that pregnancy with pre-existing diabetes is possible. These women can expect to live long full lives, as long as they do what is needed to manage their diabetes well. This includes ongoing blood glucose management, insulin treatment if necessary, a healthy diet, regular exercise, and regular interaction with a team of diabetes professionals such as an endocrinologist, certified diabetes educator, a nutritionist, and an opthalmologist trained to work with people with diabetes.
There are 1.85 million women of child-bearing age (18-44) in the U.S. who are living with type 1 or type 2 diabetes, a condition where the body doesn't produce or process insulin effectively. For these women, getting pregnant with uncontrolled blood sugars could lead to potentially devastating health complications. These include delivering babies with birth defects or excess weight, and dealing with pre-eclampsia, eye damage, and other problems while pregnant.
But having a baby shouldn't be a buzzkill.
"Balancing Pregnancy With Pre-Existing Diabetes: Healthy Mom, Healthy Baby," is the first insider's guide about what it takes to do pregnancy with diabetes right. Tight blood sugar management, insulin use, eating healthy, exercising and staying on top of many doctors' appointments are all crucial elements for a healthy pregnancy and baby. The book features the advice and insight of more than 50 other women with type 1 or type 2 diabetes. Leading medical experts also weigh in and the latest research in this area is discussed. Pregnancy loss and infertility are also addressed.
Cheryl Alkon is a writer, researcher and editor whose work has been published in national, regional, and online publications including USA Today, the New York Times, DiabetesMonitor.com, Boston, More, and Woman's Day magazines. She and her family live in Massachusetts. Learn more at http://www.CherylAlkon.com.