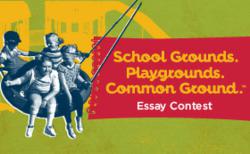 Play is serious work at Thornton Creek Elementary School...
Delano, Minn. (PRWEB) October 12, 2012
School organizations across the nation and in Canada have been chosen as the top winners of the national School Grounds. Playgrounds. Common Ground.™ contest for their essay submissions describing how their schools would benefit from an inclusive playground, which will bring children of all abilities together to learn, play and grow. The grand prize winner is Thornton Creek Elementary School in Novi, Mich., which will receive $50,000 in inclusive playground equipment from Landscape Structures Inc.
The contest, sponsored by Landscape Structures in partnership with the National Association of Elementary School Principals (NAESP) Foundation, furthers their collective mission to enhance the lives of children with inclusive play environments. Landscape Structures is the nation's leading designer and manufacturer of commercial playground equipment. The NAESP Foundation is the philanthropic arm of the National Association of Elementary School Principals, a professional organization serving elementary and middle school principals and other education leaders throughout the U.S., Canada and overseas.
"Landscape Structures is excited to work with the NAESP Foundation to help create a more overall inclusive environment at schools across North America," said Pat Faust, president of Landscape Structures. "We are committed to designing inclusive playgrounds where all children can learn and play together, and we are honored to award these contest prizes and look forward to seeing how the new playgrounds inspire acceptance of all abilities in the winning schools."
Thornton Creek Elementary School has a mission to share the responsibility of creating a safe and positive environment that promotes self-esteem, mutual respect and optimum student learning, and each member of the school community is taught and understands that everyone learns at different rates, times and through different strategies. Because Thornton Creek takes students' learning opportunities from the classroom to the playground, they realized that it, too, needed to be more inclusive to welcome the diverse population.
"Our committee is honored to receive this award from Landscape Structures and the NAESP Foundation," said Alison Epler, principal of Thornton Creek Elementary School. "Play is serious work at Thornton Creek, and we look forward to strengthening our outdoor play space in order to welcome children of all abilities. Not only will the new playground be used for play time, but it will act as an outdoor classroom that helps our students develop their social, problem-solving and gross motor skills, and much more!"
"Schools have long been focused on creating inclusive learning environments inside the classroom," said Ernest J. Mannino, Chief Executive Officer, National Association of Elementary School Principals Foundation. "Thornton Creek Elementary School understands the importance of expanding that inclusivity to the playground, and we're excited to see the outcome of their playground project."
Runners-up were awarded $15,000 each in inclusive playground equipment from Landscape Structures. Runners-up included:

Utsalady Elementary School in Camano Island, Wash.
Lone Dell Elementary in Arnold, Mo.
Clyde F. Brown Elementary School in Millis, Mass.
James Whiteside Elementary in Richmond, British Columbia
For more information about the contest and winning entries, please visit playlsi.com.
Since 1971, Landscape Structures Inc. has been the leading commercial play equipment manufacturer in the world. The employee-owned company is committed to making the world a better place with active children thriving in leading communities year after year, generation after generation. Landscape Structures encourages outdoor play that develops healthy kids and a sustainable world by creating innovative products that are environmentally responsible. As a leader in inclusive play, Landscape Structures is committed to designing truly inclusive playgrounds that provide places where children of all abilities can play, learn and grow together. The company's mission from day one has been to enhance children's lives by fostering and creating inspiring play experiences while honoring the environment.