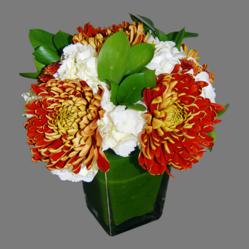 New York, NY (PRWEB) October 01, 2012
A flower boutique in Manhattan has decided to celebrate its ten-year anniversary by kicking off a contest. Katrina Parris Flowers will open up the contest to anybody that wants flowers sent to somebody in the Manhattan area. Participants will be asked to come up with witty reasons why people send flowers.
"It's going to be a bit like a David Letterman Top Ten List," Katrina said. "But only Top 5 list is needed. We want this to be fun even for the people who don't win."
The first place winner will have flowers delivered anywhere in Manhattan once a month for four months. The prize is valued at $500. The runner up will have the opportunity to send flowers once a month for three months, and the third place winner will be able to send flowers to anybody in Manhattan twice. Those prizes will be valued at $400 and $300 respectively. Go to contest page for more details.
There's no reason the participant would need to live in Manhattan themselves. The only requirement is that the flowers be sent to somebody in Manhattan. Katrina explained that they want to give as many people an opportunity as they can.
Top 5 example submissions would be, "People send flowers because..."
1. His girlfriend was tired of seeing her age on a birthday cake
2. He doesn't know how to wrap gifts
3. The easiest way to a woman's heart is through her eyes and nose
4. It's best not to have the fight in the first place
5. ….
"We're not looking for jokes that are too crude," Katrina said, "but we don't want folks to hold back either. More than anything we really just want to give people something to laugh about," she elaborated.
Visit Katrina Parris Flowers website to enter contest. Or visit their Facebook page.
Katrina Parris Flowers
Katrina has been excited about flowers since she was a little girl tending to her garden with her father in southern New England. After moving to New York, she pursued a career in Human Resources, until she eventually fell back in love with her creative side. It started with floral design classes at Brooklyn Botanical Gardens and further learning at Parsons School of Design. In 2002 she launched the boutique, and she has been using flowers as a way to help people rekindle romances, plan weddings, and host events ever since. Voted Top Ten Florist by Citysearch.com; Named "Best Bet" New York Magazine and Zagat Rated 27/30.