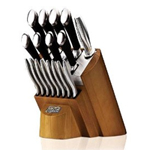 Atlanta, GA (PRWEB) October 01, 2012
10rate editors Brittany Rowland and John Moore cut through all the choices out there in the Knife category and come up with their top choices. According to the Best Knife Sets page at 10rate.com they selected their top choices based on the following criteria,
1. Number and types of knives
2. Convenient storage like a block or case
3. Sharpener included
4. Strong, sharp blades that retain their edges
5. Bolsters that provide excellent weight and balance
6. Ease of sharpening and cleaning
7. Attractiveness of design
8. Comfortable, non-slip grips
Shun, Ginsu, Chicago Cutlery, and Wusthof all had highly rated knife sets according to the reviewers.
Editors also evaluated and selected the Best Chefs Knives based on the following:
1. Durable, strong forged steel
2. A full tang for extra strength
3. Comfortable, non-slip handle for big or small hands
4. A balanced feel
5. A sharp, rounded edge that allows a quick rocking motion
6. Lightweight enough not to tire the arm
7. Hefty enough to cut through tough foods
8. A polished, stain-resistant blade
9. Ease of cleaning and sharpening
According to reviewers Global, Shun, Wusthof, and J.A. Henkels all figured prominently in the rakings.
Lastly, editors chose the Best Santoku Knives with Ginsu, Victorinox, Global, Oxo, and Shun all being selected according the the Top 10 list.
10rate.com conducts reviews in various product and services categories and publishes "Expert Top 10 Lists for Everything in your life." The company's web site strives to "Make it Easy" to select from the hundreds of choices there are in the product and service market place. All products and services are thoroughly researched by the companies expert editors prior to receiving a rating on a 1-10 scale. In addition to product reviews the companies editors write guidelines, buying guides and articles on various topics surrounding each product or service category covered to help educate the consumer.