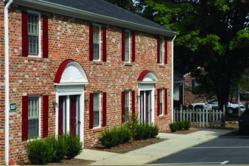 Barracks West is a tremendous opportunity for us to reposition an asset and create significant value
Bethesda, MD (PRWEB) October 01, 2012
The Goldstar Group of Bethesda, MD has acquired 265 rental condominium flats and townhomes at Barracks West in Charlottesville, VA for $13.3 million ($50,000 per unit) in an off-market short sale. Located just a half mile from the University of Virginia's business and law schools, the Barracks West units were placed in receivership by Suntrust Bank in late 2011 after the previous owner defaulted on a $22 million loan. The new ownership plans to invest an additional $4.5 million in capital improvements.
Goldstar affiliate Metropolis Capital Finance sourced debt capital for the transaction. The Goldstar Group's acquisition included approximately $15 million of senior and mezzanine debt with the balance of the capital stack funded with equity.
This acquisition marks the fifth "fractured condo" acquisition that The Goldstar Group has closed in the last three years. In one of the Washington, DC metropolitan area's largest-ever residential note sales, Goldstar acquired a $45 million mortgage on 86 unsold units at Floridian Condominiums for $22.6 million in January of 2010, and has since sold all but three of those units. In August 2011, Goldstar paid $7 million for the remaining 65 units at Rosewood Condominiums in Gaithersburg, MD in the wake of Lehman Brothers' bankruptcy.
Originally developed in 1969, Barracks West Condominiums comprises 34 buildings on over 19 acres. Its 364 residential units range from efficiencies to three-bedroom apartments and townhomes. The property was acquired by Cheetah Investments, LLC of Charlottesville from AIMCO in 2006 for $31.6 million ($87,000 per unit). In 2007, Cheetah began converting the community to condominium ownership, and sold 99 units at an average price of about $130,000. Ultimately, however, the real estate market downturn caused sales to slow until the ownership defaulted on its loan.
To stabilize and enhance the property, Goldstar plans to spend $4.5 million on renovations including common area improvements, exterior building and parking lot repairs, landscaping, and improvements to the community clubhouse. Select units, some of which are unoccupied and others that have been rented at below-market rates, will be upgraded with new paint, carpeting, appliances, lighting, new heating and cooling systems, water heaters, and more.
Goldstar has contracted with The Donaldson Group of Rockville, MD to manage the property and execute the renovation program.
"We have made a concerted effort to focus on distressed residential deals over the last couple of years, successfully identifying and executing a number of deals in the Washington, DC metropolitan area," said Michael Brodsky, Goldstar CEO. "As distressed opportunities in the DC area diminish, we are looking to other markets where we can leverage our specialized knowledge and experience. Barracks West is a tremendous opportunity for us to reposition an asset and create significant value."
Added Eric May, Goldstar Senior Vice President: "Barracks West is ideally situated in one of Charlottesville's most sought-after locations. We will infuse significant capital into the property to upgrade units and improve the community's overall appearance. As a result, we are confident that Barracks West will become one of the premier rental communities in Charlottesville."
"We were able to arrange very competitive bridge debt based largely on the sponsorship, which has a successful track record acquiring and repositioning fractured condominiums," remarked Cliff Mendelson, CEO of Metropolis Capital Finance.
About The Goldstar Group: Formed in 1995 and based in Bethesda, MD, The Goldstar Group is a privately held firm strategically focused on commercial real estate investments and services on behalf of its clients and principals. We focus on value creation through opportunistic situations within the commercial real estate industry, principally in the Mid-Atlantic region. For more information, visit http://www.thegoldstargroup.com.
About Metropolis Capital Finance: Having completed more than $5 billion in transactions, the team at Metropolis Capital Finance (MetCap) specializes in the funding of capital for owners of commercial real estate. The MetCap team's experts in structured finance actively pursue all portions of the capital stack including senior loans, equity participations, mezzanine financing, and joint ventures. It is our mission to provide unique capital solutions for complex real estate finance transactions. For more information, visit http://www.metcapfinance.com.