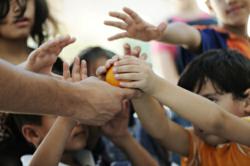 New York, New York (PRWEB) October 02, 2012
Joelle O'Reilly-Hyland also known as Joelle Wyser-Pratte, co-chair of the Ounavarra Foundation, is proud to announce that she has developed a new website devoted to the ins and outs of starting up and running a charitable organization. The new site, http://www.joelleoreilly-hyland.com, should be of great help to those just entering the industry, as well as people who have worked in the field for many years.
According to Joelle O'Reilly-Hyland, the idea for the website came about after many informal discussions with family members and friends about the important work she was doing at a variety of charities sponsored by the Ounavarra Foundation.
"In essence, many of the people I talked to were very supportive of the goals of our organizations, but they had no idea what it was that we did on a day-to-day basis," says Joelle O'Reilly-Hyland. "In fact, many people I talked to had really great ideas for starting their own philanthropic endeavors, but they just didn't know what they'd have to do to get their ideas off the ground. I thought my blog could help these people to get started, and really make a contribution to the world around them."
The blog will contain specific information that Joelle O'Reilly-Hyland has found helpful in her work, but she understands that each philanthropic endeavor is different, and that some people will have different ideas that don't apply to her field but might apply to others. She hopes to foster a collaborative environment where people with good ideas feel comfortable sharing them with the world at large.
"I hope to encourage people to contact me with any tips they've learned and lessons they've found helpful," Joelle O'Reilly-Hyland says. "I always enjoy interacting with other people who work in my industry, and I think we all have information we can share with one another. I hope my blog provides another arena where we can all interact and share best practices."
Joelle O'Reilly-Hyland is an incredibly busy person, as she maintains a job in the finance industry as well as performing her duties at the Ounavarra Foundation. While she hopes to have a significant amount of time to devote to her blog, she recognizes that her responsibilities in these other areas must always come first.
"I've always been really good at organizing my time and meeting my obligations," she says. "I have no doubt I'll be able to do the same with this blog. But I hope my readers will be patient if it takes me a little time to update content, right off the bat!"
About Joelle O'Reilly-Hyland who is also known as Joelle Wyser-Pratte
Joelle Wyser-Pratte is the co-founder and managing partner of Ounavarra Capital LLC, an independent and boutique investment firm that prides itself on delivering the very best investment opportunities. Wyser-Pratte co-founded the firm recognizing a need for investment professionals that truly cater to their clients. While most investment managers(you are NOT an investment manager) like to stay behind the scenes, Joelle Wyser-Pratte works hard behind the scenes and face to face with her clients, ensuring that their best interests are always met.