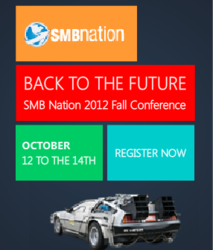 It's a success secret that coming in a day early to attend the pre-days adds maximum value to your overall experience and often allows you to participate in a more relaxed format before the true conference commences.
Bainbridge Island, WA (PRWEB) October 01, 2012
SMB Nation announced today that as part of its 10th Annual Fall Conference, it will hold a selection of well-rounded and diverse Pre-Day Sessions on Thursday, Oct. 11, at the Rio Conference Center in Las Vegas. With the conference kicking off officially on Friday, Oct. 12, with a theme based on "Back to the Future," it is being touted as one that will discuss "Life After Small Business Server (SBS) Pivot or Perish."
In addition to the content featured at the fall conference during Oct. 12-14, SMB Nation's Pre-Day will offer attendees a full day of education that will touch on a variety of topics headlined by some of the industry's most well-known thought leaders. Beginning at 9 a.m. on Oct. 11, the Pre-Day will include the following sessions:

CompTIA Quick Start Session to Crafting a Mobility Offering: In this 45-60 minute session, Mike Davis, Senior Contributing Author, Information Week, will share with attendees some of the steps for building a successful mobility strategy, including tips on bundling and marketing solutions. Attendees also receive a copy of the CompTIA Quick Start Guide to Crafting a Mobility Offering.
CompTIA Quick Start Guide to Social Media for Marketing: Ginger Clay, Head of Marketing and Channel Strategy, 4-Profit, will provide tips and tactics for leveraging social media in marketing and lead-generation activities. Clay will also discuss how to use social media to increase your online visibility, drive more qualified traffic to your Web site, and turn that traffic into leads and sales.
DRaaS: How to arm yourself with the right tools to become a hero to your customers: Storagecraft will work with attendees during this session on effective sales techniques to make selling disaster recovery as a service (DRaaS) much easier. Techniques offered will include the right combination of tools and technology to give customers a game plan to avoid disaster as often as possible, and recover quickly when the inevitable does happen.
Windows Server 2012 Essentials Guided Online Hands-on-Lab Experience: Conducted by David Fabritius, Product Marketing Manager, Microsoft, this session will feature three of the Essentials Program Managers, who will be on hand to help answer your questions. The session will focus on the lab itself; the second half will be an "ask the experts" open-ended Q&A, which will discuss actual customer scenarios.
How to Differentiate Your IT Offering: Run by Alex Rogers, CEO, Chartec, this session will present attendees with key offering elements that will help construct or enrich their current managed service offering for more profit. It will also touch on how to uncover new revenue streams and find more opportunities with less effort.
PacketTrap Wine Tasting Event: Sponsored by PacketTrap, the Pre-Day Sessions will close out with a Wine Tasting Event at The Wine Cellar at the Rio Suites Hotel. The Wine Cellar showcases some 50,000 bottles of wine valued at more than $10 million.
This year's SMB Nation Fall Conference will provide an opportunity for both attendees and sponsors to meet and learn from each other through a variety of mediums. The Pre-Day sessions are designed to offer both parties additional face time for meeting and greeting, as well as educational opportunities that they can take back with them to implement within their respective business models, once the conference closes.
"Someone needs to write an article on how to get maximum value out of your professional conference experience," shared Harry Brelsford, Founder, SMB Nation. "It's a success secret that coming in a day early to attend the pre-days adds maximum value to your overall experience and often allows you to participate in a more relaxed format before the true conference commences. I do it myself when I attend other events. And don't forget I'm hosting the post-conference bike ride on Monday, October 15 for a real good time – it's a post-day!"
SMB Nation Fall has already gained support from an enthusiastic and well-known sponsor community, which includes our Platinum Sponsors: Dell, D&H, Intel, HP, Microsoft, OKI and Storagecraft.
For more information and to register for this year's fall conference and pre-day content, please visit fall.smbnation.com.
About SMB Nation
SMB Nation is a media integration and events community, targeted at the small and medium business (SMB) channel partner/reseller/consulting/VAR community. SMB Nation spreads the knowledge of SMB technology trends through its conferences, books, print magazine, online services, and worldwide seminars, workshops and accredited Pocket MBA certificate (an academic partnership with Aspen University). As an active participant in the technology community, SMB Nation has a long history of enthusiastic advocacy and evangelism. The SMB Nation tribe exceeds 54,000 followers worldwide. For more information, visit http://www.SMBNation.com, http://www.CloudNation.co and http://www.Telephonation.com. Follow us on Twitter @SMBNation, and join our Facebook page at: http://www.facebook.com/SMBNation.