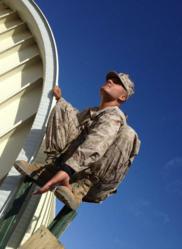 Las Vegas, NV (PRWEB) October 06, 2012
Dollar Store Services, the largest developer of independently owned dollar stores in North America, announced on June 12 plans to partner with Veterans Business Resource Center. Veterans Business Resource Center is a community based organization that helps veterans transition their military skills into self-employment through different programs like Heroes To Home.
Since the program has been put in place a number of veterans have taken advantage of the discounts and the service. You can view one success story here.
It can take up to 6 months for military personnel to transition back into the civilian workforce according to Veteran statistics. The Heroes To Home Program offers assistance to veterans and their families in order to help them build a small business clientele. In addition, Heroes To Home assesses skills and connects Veterans to alternative employment opportunities due to job elimination while deployed and they indentify replacement work due to conditions which make it impossible to return to previous jobs.
Dollar Store Services offers 100% turn-key dollar stores and full ongoing service similar to a franchise but without any franchise fees. Through the Heroes To Home program they are currently offering Veterans large discounts along with their full suite of business services for one low starting price. They mention that they are often able to get new store owners 100% financing, especially military personnel and veterans, and interested parties may be able to start a business at no out-of-pocket expense. There is an initial fee of $1,500 (only $500 for Veterans) in order to get started, however this is fully refundable if individuals are unhappy with the service or if the store cannot be opened for any reason.
For more information about Veteran benefits, please contact Dollar Store Service's Veteran Liaison, John Finley at JohnF(at)DRSSmail(dot)com. For information about the Veterans Business Resource Center please visit http://www.vetbiz.com or contact Darcella Craven at craven(at)vetbiz(dot)com.
If you are a veteran or know one, and would like to find out more about opening a business, please follow the link.