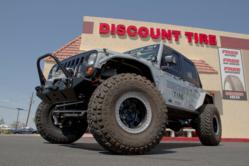 We enjoy sponsoring the JK Experience because each year is a new adventure and each year we have varying extreme terrain to test the products we sell.
Scottsdale, AZ (PRWEB) October 05, 2012
The 2012 JK Experience presented by Nitto Tire kicked off in Terra Haute, Indiana. Subtitled this year as "The American Heartland Tour," this week-long extreme-off-road enthusiast event, sponsored by Discount Tire, zigzagged through Indiana, Ohio and Michigan giving everyone involved a little taste of the 4x4 terrain around the Great Lakes.
Mark MacGuinness, vice president of Discount Tire Direct said, "This is our third year as participating sponsors of this great event. We enjoy sponsoring the JK Experience because each year is a new adventure and each year we have varying extreme terrain to test the products we sell. Since Michigan is the birthplace of Discount Tire and my personal home state, this year was something special."
Indiana, Ohio, and Michigan are a patchwork of deep rooted family farms growing everything from corn to soybeans to asparagus to pumpkins. Hidden among them are a number of privately-owned Off Highway Vehicle (OHV) recreation areas and state parks with some of the best off-roading in this part of the country.
The first day of the 2012 JK Experience led the group to Redbird State Recreation Area, which was once a large coal mining plot. Today for a small fee, the public OHV park is open for day use. The trails were wet and covered with a thick layer of mud that got more and more slippery as the day went on.
Participant Dave Roberts stated, "Our Nitto Mud Grapplers were likely the best choice for this event. I knew they were unreal on the rocks but in the mud they gave me confidence to wheel in conditions that I have not wheeled in before."
Dave and his wife Rhonda drove all the way from their home state of Colorado to participate, racking up over 3,600 miles total by the time they made it back home.
When asked how this year's terrain differed from years past, trail leader Jason Redfield commented, "The trails in the Great Lakes are much tighter and have a lot more mud than the trails of previous JK events. While guiding people this year I spent a lot less time worrying about rock climbing tire placement and more time trying to get vehicles through the trees without body damage."
After slipping and sliding through Redbird the weather slowly let up and the group eventually made their way to the Silver Lake Sand Dunes, the privately-owned Rocks and Valley's Off-Road Park and then on to Michigan's Upper Peninsula for a ferry ride to Drummond Island. On the island, the 2012 JK Experience wrapped up the last two days by wheeling the Turtle Ridge OHV Park and taking a scenic back road tour of the Island's coastline.
Running 40-inch K-Spec Nitto Trail Grapplers, the Discount Tire Wrangler was able to carefully thread the trees and power through the muddy trails throughout the week without damage. The K-Spec Trail Grapplers also did great in the Silver Lake Sand Dunes as they had no problems finding traction in the loose sand.
Although the K-Spec version of the Trail Grappler is not available for consumer purchase at this time, Nitto Tire USA did mention informally that they are evaluating the possibility of releasing their standard Trail Grappler in a 40-inch size in the future. Once released, this size would be available with the rest of the Nitto lineup at Discount Tire's retail locations. During this event roughly 20 of the 25 Wranglers ran Nitto Mud Grapplers or Nitto Trail Grapplers and not one of them suffered a tire failure despite the many rocks, sticks, and stumps encountered on the aggressive off-road terrain.
For photos of the 2012 JK Experience presented by Nitto Tire please visit our Discount Tire Motorsports Facebook page at, http://www.facebook.com/discounttiremotorsports.
ABOUT US
Discount Tire/America's Tire, based in Scottsdale, Arizona, is America's largest tire and wheel retailer. The company does business under the trade name Discount Tire in most of the U.S. and America's Tire in Oregon, and parts of Washington and California. The company currently operates more than 800 stores across the country. In 2010, the company marked its 50th year serving customers as their trusted tire retailer in local markets across the U.S. Discount Tire/America's Tire also sponsors NASCAR Nationwide Series, Monster Energy AMA Supercross, Formula D, Global RallyCross Championship and LOORRS racing. News, driver appearances, show car schedules and racing schedules can be found at discounttiremotorsports.com or americastiremotorsports.com. For more information about Discount Tire/America's Tire visit discounttire.com or americastire.com.