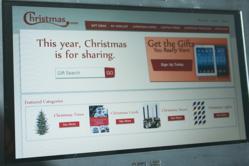 For the first time in nearly a decade, there will be an online home for Christmas this holiday season.
Maple Ridge, BC, Canada (PRWEB) October 01, 2012
Left of the Dot Media Inc. is excited to announce the forthcoming re-launch of Christmas.com as The Official Site of Christmas™ and as a social discovery engine to help consumers find the hot product ideas. Christmas.com is a world-recognizable brand, and one of the top undeveloped properties on the Internet. The site's re-launch will provide online and offline retailers with a unique advertising channel to engage and connect with new consumers throughout the lucrative Christmas shopping season.
For retailers, Christmas.com provides several new advertising channels, including a limited number of 'Founding Sponsorship' packages for retailers who want to closely align their brands with the Christmas.com name.
"The re-launch of Christmas.com marks the return of one of the largest brands on the internet," said Chris Jensen, Co-Founder of Left of the Dot Media. "For the first time in nearly a decade, there will be an online home for Christmas this holiday season. Our goal is to work with retailers to make this Christmas the easiest and least-stressful holiday season ever. After investing in our team and technology for two years, we are able to deliver a site in 2012 that encapsulates the spirit of Christmas, and our core philosophy that Christmas is for Sharing."
For consumers, Christmas.com will provide a gift recommendation engine to help identify the Best Gifts of 2012 by both category and personality types. Furthermore, the site will provide personal Family Pages for users to collect and share photos and memories throughout the holiday season. The website will also let users create easy-to-use wish lists that remove the stress of Christmas shopping while ensuring gift recipients receive gifts that are truly wanted. Consumers will be able to add products from anywhere on the internet to their customized wish lists and easily share them with their friends and family.
Continued Jensen, "We are pleased that initial response to the brand's re-launch has been well received by consumers and retailers alike. In fact, more than 50% of available sponsorship opportunities for our 30-Days of Christmas campaign have already been secured by some of the top names in retail. These merchants have stepped up in advance of our commercial launch, after seeing both the benefit of brand alignment as well as our traffic generating capabilities. This is going to be a great Christmas for all involved."
About Christmas.com
Re-launching in October 2012, Christmas.com is a social discovery e-commerce site that will make sharing and keeping track of wish lists and gift ideas easier than ever before. As The Official Site of Christmas, the website will feature gift suggestions, comparison shopping, family pages, mobile applications, charitable gift suggestions, and more. For more details and to track the website's progress, follow along at http://www.Christmas.com.
About Left of the Dot Media
Left of the Dot Media transforms underutilized domain names into leading web brands, where each brand has the opportunity to change its entire market segment. In addition to Christmas.com, leading web properties under management include HomeDecor.com, Villa.com, Massage.com, and many more. Left of the Dot Media is located in Maple Ridge, British Columbia. More details about the company can be found online at http://www.LeftOfTheDot.com
Media Inquiries:
Luke Stibbs
luke (at) leftofthedot (dot) com
Phone: 604-477-5686