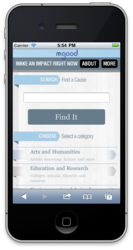 New York, NY (PRWEB) October 02, 2012
Today, mGood L3C, a leading text-to-give application provider and an innovator in the mobile tech space for cause related activities, announced a new partnership with UR Mobile, a leading mobile web solutions provider. The partnership combines text giving and mobile web solutions to enable nonprofit organizations to more effectively campaign and fundraise in the mobile environment. Said Leah Pederson Thomas, President and CEO, mGood: "Most nonprofit organizations have recognized text giving campaigns as a critical engagement tactic since the 2010 earthquake relief efforts in Haiti. Text giving is still the primary way that many nonprofits keep mobile constituents engaged, but with the increasing popularity of the mobile web, it has become just as critical that nonprofits have a mobile web solution. Our partnership with UR Mobile has united text giving with mobile web to enable nonprofits to effectively reach their mobile constituents in the changing mobile environment."
A mobile web app was created out of the partnership, which allows visitors to mGood's mobile site to give to associated nonprofit organizations. The new mGood mobile site lists associated nonprofits by category, from "education and research" to "health" and more. Within each category is a list of mGood-associated nonprofits. When visitors to the site click on one of the nonprofit's pages, they are given the option to push a button on the page in order to donate to that organization via text. Pushing the button in their mobile browser accesses the text messaging function on their phone, from which they can type the relevant keyword and click "send" to make a donation.
Additionally, mGood's nonprofit clients now have the option of adding a secure, mobile donation form to their organization's page. This form will allow mobile visitors to donate any amount they choose from their phone, instead of the default $5 or $10 options that are standard with text giving. With the mobile donation form, organizations can also offer a recurring donation option to mobile visitors. Other important functionalities can also be included in the organization's page, such as social media integration, embedded video, images, blog content, QR code generation and more.
"We are very excited to be working with mGood," said Melissa Vincent, VP of Business Development, UR Mobile. "The combination of mGood's industry-leading SMS platform with UR Mobile's industry-leading mobile web platform is something that we believe nonprofits will find exciting too. In the past, those services came separately, but this partnership is allowing nonprofits to look to one place for their two most important mobile engagement services."
The new mGood website, the result of the partnership, which includes associated nonprofit mobile pages with text giving functionality, will officially launch at the Columbia Business School 2012 Social Enterprise Conference on October 5, 2012. As the Mobile Crowdsourcing Sponsor of the event, mGood will give attendees the opportunity to try out the new functionality first-hand, inviting attendees to donate to the Columbia Business School from their smartphones.
###
About UR Mobile
UR Mobile's pioneering team of software experts provides powerful mobile solutions for organizations across enterprise and offers its mobile website creation and management platform, Ignite CMS, to Creative Agencies, who manage the mobile identities of some of the most well-known brands on the Web. http://www.urmobile.com
About mGood L3C
An innovator in the space of mobile technology for cause related activities, mGood provides access to an array of Mobile Marketing tools to promote mAdvocacy campaigns, which raise awareness and increase giving. As a licensed application provider offering text giving solutions to qualifying 501(c)(3) organizations, mGood also assists nonprofits with the MGF application, configures and submits programs for carrier testing, and provides controls, views and reports from within its online client portal tools. http://www.mgood.com