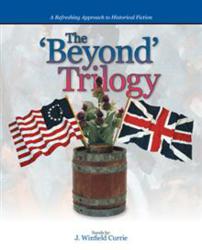 Rockland, MA (PRWEB) October 01, 2012
In her new book "The 'Beyond' Trilogy" (published by Abbott Press), author J. Winfield Currie collects the three books of her historical fiction romance novel series into an updated, omnibus edition.
"The 'Beyond' Trilogy" is an action-adventure, historical fiction novel set in the American South during the Revolutionary War. Currie interweaves the lives of a large cast of characters – some fictitious, some historical – in a powerful saga of courage and passion set in an era rife with conflict, betrayal and lives torn asunder. A ruthless British Green Dragoon Colonel finds himself irresistibly drawn to a Scottish lass captured by his dragoons as a rebel spy and dragged before him for questioning. Unbeknown to him, she is the sister of a rebel militia leader, a fact she must conceal – or face horrendous consequences.
An excerpt from "The 'Beyond' Trilogy":
"Never attempt to come between the three of us again. Never! For I have seen, and done, things that would horrify your oh-so-delicate nature, just to protect those two men I love. And I will not dishonor the unique relationship existing between the three of us, by discussing it with you. Be fair warned. Although I am grateful for your shelter, I will stop at nothing to protect my men."
Currie is confident that readers will connect with the timeless emotions and experiences presented in "The 'Beyond' Trilogy." "So much of present day turmoil is encountered throughout: vengeance, deceit, jealousy, arrogance, guilt, agonizing loss, the inevitability of aging and more – just set in a different era," she explains. "Emotional grief has not changed since the beginning of time."
About the Author
J. Winfield Currie grew up on a working dairy farm in southern Massachusetts. A graduate of Massachusetts College of Art in Boston, she operates a small graphics studio, creates fantasy watercolors and has worked for 28 years in retail hardware. Daughter of a taxidermist, Currie had a unique upbringing: camping in the Adirondacks, fishing, hunting and shooting skeet in the back fields. She presently lives and writes in Rockland, Mass.
Abbott Press, a division of Writer's Digest—the oldest and most respected publisher devoted to the education and advancement of writers—is an indie-publishing imprint dedicated to helping writers bring their literary vision to print. Author Solutions, Inc., a leader in indie book publishing, will fulfill publishing, sales, and marketing services for Abbott Press. For more information, or to begin publishing a book today, log on to abbottpress.com or call 866-697-5310.