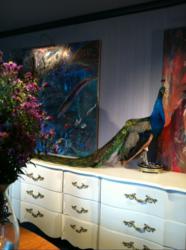 I was torn with my beliefs about design as a higher form of art said Black
Berkshire Hills, Massachusetts (PRWEB) October 01, 2012
Five years ago, after 25 years in Manhattan, and just after completing two notable design projects…interior designer Cuoco Black literally pulled the plug on it all. His design for the gone but not forgotten "Gin Lane Restaurant" in Manhattan's Meat Packing District had seen an incredible reception by the media and was awash in celebrities. Shortly thereafter, his design for the Experimental Cocktail Club in Paris France garnered his clients a "Best Bars in the World" ranking from FoodandWine.com, a plum not often seen in an American's interior designer's portfolio. A former network chef engaged him for the design of a new restaurant in Manhattan, yet, for all of it, an internal struggle caused him to reflect on his own design values and he chose to move away from his work instead of embracing it.
"I was torn with my beliefs about design as a higher form of art" said Black "every inch of the built environment in Manhattan was celebrating Boutique Design, all was predictable". It was cliche said the designer, boutique hotels, restaurants and nail salons were employing the typical design instruments; sculpted wood wall panels, pendent lights hanging from a soffit, over a reception desk or bar, which soffit mirrored the shape of the desk or bar below...and the exhausted Buddha concept. I had to loose the noise, the rhetoric and the banality…design became toxic and pedestrian, said Black. An invitation to spend a week in the Berkshire Mountains resulted in an unexpected design epiphany...he was seduced by the country. The experience, alone in nature-resonated with his creative spirit, his creative instincts were coming into sync…"everything started to vibrate" says the designer, his ideas and beliefs about design began to take shape.
Now, in the Berkshires, preceding any efforts at creative exploration the designer lays the foundation for tabula rasa, reaching neutral as he calls it…..in a one-two-three-step-process. One nature, two environment, three silence…are a magical combination that perpetually lead me to the design gestalt says Black, gestalt takes the form of pure design-design detached from any form of "trending". I am surrounded by flowers, lakes, mountains and open skies says the designer, that is one. Two said Black, is the environment.The designer has decorated his atelier, a horse-stable-barn-lumberyard-sort-of-space with a beautiful yet masculine array of design appointments. The taxidermied peacocks, Mid Century art and slate blue walls are romantic but still speak to the male psyche. And three, silence, there is no cable in the studio. When the designer took reigns of the space he had to convince his teenage son that in time, the absence of noise, would reveal to him the ways of the designer Jedi dad, and that he, his son, could also become one with his own creativity.
Black says it all comes down to "blank state" consciousness. There are no influences… no design TV, no lifestyle magazines, no design hype….he says creatives have all the information in the realm of their reality, the trick is to recognize the naturally occurring information that is on your palette, he likens it to channeling the universe. Tabula rasa is an epistemology theory of the ancient Greeks. Essentially it argues that people are born at blank state, with no mental content, knowledge they said...comes from experiences and perceptions. Proponents of the tabula rasa favor a nurture vs. nature doctrine. Black believes that creatives must get to neutral, blank state, and at that point, the evidence is at their fingertips….and as a metaphor to fingertips….five minutes from the designer's atelier is Arrowhead, Herman Melville's home and source of the creativity behind the story of Moby Dick.
About Cuoco Black
Cuoco Black is a former faculty member of the New York School of Interior Design from which he holds a BFA with distinction and Professional Design Diploma.
He believes the art of interior design has been lost to the boutique design aesthetic and designs according to natural rhythms which reflect the spirit and personality of his clients. He calls this design at Tabula Rasa, meaning...the design of a commercial space should be a reflection of a company brand or....in the case of a home, design that embraces some emotional component of the owner's personality. Whether an ancient Parisian subterranean vault, a New York City concrete volume, or a sophisticated Miami geometry, Cuoco Black will provide you with beautiful interior design resulting in a higher form of art.
His work has been featured in the New York Times, Bloomberg.com, Bravo.com, FoodandWine.com, and Elle Décor FR. His design for the Experimental Cocktail Club in Paris France has garnered his clients a "Best Bars in the World Ranking" at #13, by Bartender's Magazine.