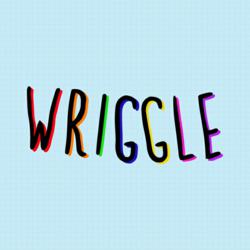 If you're a creative person, the up-and-coming app industry is the perfect place to make a big splash at an early age
London (PRWEB UK) 1 October 2012
After a successful year selling advertising space on their faces, BuyMyFace.com founders, Ross Harper and Ed Moyse are embarking on their latest venture – the development of a social game for iPhone and Android smart phones. By visiting WriggleApps.com, fans can sign up to get sent a free copy of the game at launch.
Due for release in early October, "What's This?" has already been shortlisted for an Appsters award in the "best start-up 2012" category. The two best friends have said they will be using everything they've learnt in the last year from BuyMyFace to really give their new app a chance at making it big. Ross and Ed hope to continue their success and show young people everywhere that now is the time to have a go.
"The outlook for graduates right now is bleak. Everyone thinks it's all doom and gloom when you graduate from university. We want to prove otherwise. With the lack of job opportunities, it seems that now is a better time than ever to try out a creative new idea. " (Ross Harper)
"Entrepreneurs and small businesses are crucial to rejuvenating the economy. We want to inspire students and graduates to take the bull by the horns. If you're a creative person, the up-and-coming app industry is the perfect place to make a big splash at any age." (Ed Moyse)
The BuyMyFace project began on the 1st October, 2011. The website has since gathered a cult online following and has featured in national press, radio and television across the globe. Now, 366 days later, Ross and Ed have raised £50,000 ($80,000) and are looking to the future.
"BuyMyFace.com was a wacky idea born out of the poor economic climate – kind of a tongue-in-cheek demonstration of the student debt problem in the UK. Our goal was to see if we could completely pay off our student debt in just one year, doing something utterly ridiculous. I think we managed it!" (Ross Harper)
"We asked our facebook fans whether we should continue with the entrepreneurial adventure, or call it a day and get a more conventional job. The result was pretty clear – the entrepreneurial path received 93% of the vote! We're now proud to announce the launch of our latest project – a social game for smart phones due for release in early October." (Ed Moyse)