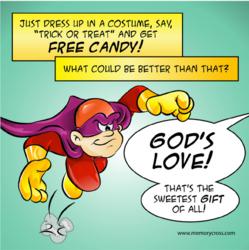 Cool!! What a unique, well thought out way to share Jesus with nonbelievers. - Lori
Jamestown, NC (PRWEB) October 01, 2012
Memory Cross has created a number of Halloween tracts including coloring cards that present the Gospel to children. Jesus last commanded was to go into all the world to share the Gospel and Memory Cross has created tracts that make it easy for Christians to share their faith.
The design of the Memory Cross Halloween tracts is what makes them so unique. The Christian tracts are designed so that they make an infinite loop, which fascinates children and adults. The messages are tied to Halloween and present the Gospel in a way that children can understand. The cards also contain a link to Need Him if people want to know more about developing a relationship with Jesus.
Comments from people who have received the Halloween tracts have been positive. A few comments include: "I showed them to all I came in contact with and got the same reaction. I even took them to work and showed them to some nonbelievers. Their response was no different. One lady said, "What a great way to get the Word out." – K. Williams, Kansas City, Mo.
"Cool!! What a unique, well thought out way to share Jesus with nonbelievers." – Lori.
Memory Cross Halloween tracts are available on their website and at selected Christian bookstores.
About Memory Cross: Memory Cross creates origami style cards that are used to share the Gospel, teach Bible stories and memorize Scripture. Each card contains four panels that are designed to create a never ending loop. Memory Cross products are sold throughout the United States, Canada, England and Australia. The idea for Memory Cross came from Pastor Andy Lambert who wanted to create a creative way to help children grow in their faith.