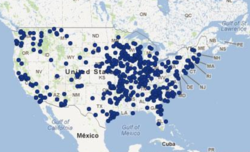 A no-brainer for anyone who wants fast national exposure driving website traffic to their company, nonprofit or cause.
Washington, D.C. (PRWEB) October 01, 2012
When Elizabeth Letchworth wanted to promote her website to a national audience she turned to a six-time Pulitzer Prize nominee for help.
Mark O'Keefe of content marketing agency Assist Communications guaranteed he would report, write and place a positive feature story in more than 700 news outlets. That guarantee turned out to be an understatement.
Within two days of its release, the 670-word article was published in 1,093 news outlets. These ranged from weeklies as small as The Cherokee Scout (serving Cherokee County, NC, since 1889) to metro dailies as large as The Milwaukee Journal-Sentinel and The Los Angeles Times.
The cumulative reach: 16.9 million readers.
"Talk about a big bang for your marketing buck," said Letchworth, owner of GradeGov.com. "This service is a no-brainer for anyone who wants fast national exposure that drives website traffic to their company, nonprofit or cause."
Assist's branded feature story is ideal for organizations wanting to:
-- reach a national audience through credible news outlets
-- increase traffic and search engine rankings for their website
-- showcase quantifiable results to a board, funder or boss
Placing an "advertorial" in just one metro newspaper can cost as much as $15,000. Letchworth paid a fraction of that and saw her story run in 1,000 times as many news outlets, with each outlet linking to her site.
"Everyone talks about search engine optimization these days," said Letchworth. "Well, go to a search engine and type or paste my headline: 'Online service delivers your A-through-F letter grade to any member of Congress'. You will see page after page of results."
When Letchworth gives an interview to other reporters, she doesn't know if the article will have a negative slant. With O'Keefe, there is no risk because the client approves every word.
The distribution network O'Keefe uses reaches two-thirds of the largest 100 daily newspapers as well as TV stations and weekly newspapers. Some outlets label the feature "advertisement," others "sponsored story," but many mix it in with their regular news content without a label. Not every outlet that sees the story uses it but O'Keefe guarantees at least 700 will publish within six months or your next story is free.
"I have done this so many times I'm confident to make that guarantee," said O'Keefe. "Most of my clients exceed 700 hits after a few days. Many see their article in more than 1,000 outlets."
Results are measured. Clients receive a spreadsheet that details where and when the article ran, what each news outlet's audience reach is and what comparable advertising would have cost in that outlet. A U.S. map visually depicts the geographic distribution, with dots representing placements.
Launched in May 2012 by O'Keefe, Assist Communications tells your organization's story to advance your business goals. It combines the best practices of journalism with the latest methods of content marketing to generate leads and revenue.
Assist offers a range of content marketing solutions, including special reports, infographics, video production, social media and newsletters.
For a no-hassle consultation on how you can have your nationally distributed news feature placed in at least 700 news outlets, guaranteed, contact Assist Communications at 202-536-5611 or email mark(dot)okeefe(at)assistcommunications(dot)com.