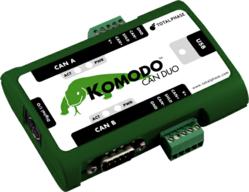 The Komodo CAN Duo is an essential tool for engineers working with the CAN Bus as it gives you a real-time window into CAN Bus activity.
Corwen, North Wales (PRWEB UK) 31 October 2012
The Debug Store is pleased to announce the availability of the Komodo™ CAN Duo; a two-channel USB-to-CAN adapter capable of transmission of data over the CAN Bus and a non-intrusive CAN Bus Analyser.
The Komodo CAN Duo Interface is a complete solution for a variety of applications, including automotive, military, industrial, medical and more. The Komodo is priced at just £325 and available to engineers throughout Europe from The Debug Store in the UK from stock with free delivery. The Komodo CAN Duo Interface is a powerful and affordable solution for CAN developers around the world.
The Komodo CAN Duo Interface features two independently customisable CAN channels, each with independent galvanic isolation, bus monitoring with real-time software filtering, and precise timing resolution. The Komodo CAN Duo Interface can also act as a high-performance bridge, relaying messages directly between CAN buses, eliminating wasted time spent sending messages through the host computer. Data can be transferred up to 1Mbps, making the Komodo ideal for high performance applications.
As with all Total Phase products, the Komodo CAN Duo Interface includes support for Windows, Linux, and Mac OS X. Software, including the API is supplied free of charge with lifetime support, and upgrades at no additional cost.
About The Debug Store
The Debug Store distributes Total Phase CAN, I2C, SPI and USB Analysers and Interfaces in the UK, and Europe. It specialises in supplying embedded systems development tools and electronic test equipment to electronic engineers in the UK and throughout Europe and is known as "The Electronic Engineers' Tool Store".
About Total Phase
Total Phase is based in California and manufactures user-friendly, powerful and affordable CAN, I2C, SPI and USB development tools for embedded systems engineers. Total Phase tools combine the best-of-breed features, Windows, Linux and Mac OS X support, a royalty-free API, free software updates and free lifetime support, making them perfect additions to any engineer's toolbox.