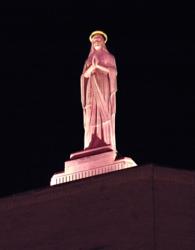 Camden, New Jersey (PRWEB) October 01, 2012
In recognition of Breast Cancer Awareness Month and in participation with the 11th annual "Lights for the Cure" campaign held on behalf of Susan G. Komen for the Cure® Philadelphia and sponsored by CBS3 and The CW Philly's "Women of Eyewitness News.", Our Lady of Lourdes Medical Center will light the hospital's iconic 30-foot, 15-ton statue of the Blessed Mother pink for the month of October.
The cherished statue, which has stood atop the medical center since its inception in 1950 and has served as a symbol of light and hope for Camden and its surrounding communities for over six decades, returns after not participating in the campaign last year due to damage caused by the 5.8 magnitude earthquake that struck the East Coast in August 2011.
After undergoing significant repairs and improvements to the statue's body and support structure, Our Lady of Lourdes will soon join other participating organizations in lighting the Philadelphia skyline pink in recognition of the thousands of brave women and men in the region who have battled breast cancer.
"We are pleased to be participating in 'Lights for the Cure' again this year," said Alexander J. Hatala, President of CEO of Lourdes Health System. "By lighting Our Lady of Lourdes pink, we are connecting two powerful symbols of hope in a truly meaningful way. They remind us to stay vigilant in the fight against breast cancer and optimistic that we will someday find a cure."
The Our Lady of Lourdes statue will turn pink beginning at sunset on Monday, October 1 and will remain lit throughout the month.
Launched in 2002 by CBS 3 and Susan G. Komen for the Cure Philadelphia, the campaign started with just 19 buildings and now includes more than 100 participating buildings and landmarks in Philadelphia, the Philadelphia suburbs and South Jersey including Atlantic City. Our Lady of Lourdes Medical Center has participated in Lights for the Cure since the campaign started in 2001.