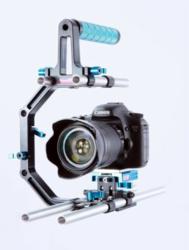 We focus on the continuous improvement of quality. We know quality beats everything and will bring us more business opportunities.
Nanjing, China (PRWEB) October 01, 2012
The grand Third World Independent Film Festival has welcome a huge lineup of reputed filmmakers. When those professionals proudly shared the filming devices applied, they found that many of them favored the same brand named Wondlan, especially its DSLR Rigs.
"Third World countries have produced over half of the world's films," stated by the festival founder Ted Unarce, a Filipino American filmmaker. "Unfortunately, a majority of their filmmakers have stayed unknown as they have limited filming budget as well as the domination of western films." Ted' s meaningful explanation pointed out the main reason for the popularity of Wondlan products.
(1) Quality beats everything.
"When it comes to buy something, the market cares more about quality. So we focus on the continuous improvement of quality. We know quality beats everything and will bring us more business opportunities," addressed by James Wong, CEO of Wondlan. Indeed, through a simple survey, many filmmakers prefer Wondlan products to others when comparing with other similar brands due to some factors, including quality.
(2) Price is competitive.
One of the big concerns for filmmakers in third world countries is the limited budget. In order to manage the balance between price and quality, to choose shooting devices with excellent cost performance plays an important part in the process of filmmaking. "At first to try Wondlan's DSLR rigs was totally out of budget concern, but when using it, the soft touch, the light weight and the flexible adjustment, all these made me excited," noted by Dolma Carton, a filmmaker in the festival. He mentioned that recently he had been considering getting a Leopard IV steadicam from Wondlan.
(3) Fashion styles.
In the field of filmmaking, it's believed that fashion should be a mark on every filmmaker. In this case, the fashionable design of Wondlan camera accessories like tripod, matte box and hand-held stabilizer etc. is also admired when people select devices. "Our design is new and unique in the market. We value the same concept as Apple, 'Less is More,'" delivered by Anna Wong, the VP of Wondlan.
Apart from providing filmmaking accessories for those with limited budget, Wondlan also exploits its market in the middle and high classes. "Indeed, we've stepped into overseas market for years and are well-known in this industry. But we only emphasize on offline marketing. We're a complete white paper in terms of online e-commerce. It takes us some time to let more people know the brand Wondlan and accept to be their first choice. There's a long way ahead," expressed by James Wong.
For more information, please contact:
Email: contact(at)wondlan(dot)com
Website: http://www.wondlan.com
Facebook: https://www.facebook.com/Wondlan
Twitter: http://twitter.com/#!/wondlan
Youtube: http://www.youtube.com/wondlan
About Wondlan
Wondlan is an internationally reputed manufacturer and supplier of photography and filmmaking accessories. With the concept of "shoot movies yourself," Wondlan.com provides shooting products of top quality at affordable prices to prove that everyone can be a filmmaker and artist. Product line of Wondlan includes DSLR Rigs, camcorder kits, matte box, follow focus, steadicam, hand-held stabilizer, sniper series, DSLR viewfinder, HD monitor, DSLR power-supply system and so on. Wondlan International has hundreds of distributors in many countries with sales network around the world.
Source: US Wondlan International Ltd.