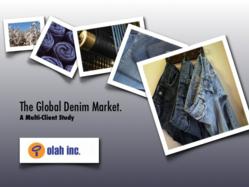 It is critical for denim companies everywhere to understand the fiber markets, in particular cotton.
(PRWEB) October 01, 2012
The Global Market for Denim & Jeans will focus on shipments, inventories and capacity on an industry basis. The study will include denim made of 100% cotton, as well as blends such as cotton blended with elastomeric fibers. Additionally, the analysis will provide some company information including key contacts, addresses, installed capacity, capacity utilization (if available), and known plans for expansions or closures. Country-by-country production and capacity will be identified, along with projections for the next five and tens years, along with a compilation of upstream and downstream influences on the denim business.
Remember the cotton crisis of 2010? That catastrophe alerted all denim industry participants to the fact that supply is not naturally destined to be available or fixed in cost. Denim companies everywhere concluded that it is critical to understand the fiber markets, in particular cotton. The study will discuss the cotton industry and talk about how denim mills in each country secure their supply and manage the risks involved. Further, the study will also discuss the market for stretch fibers (elastomeric fibers).
This timely study is available by subscription only for a limited number of companies, for a limited time. Interested? Want to learn more? Please sign up at http://www.olahdenim.com and we will contact you.
About Olah Inc.
Olah Inc is a privately owned company, founded in 1959 as a textile marketing, development and sales agency, which has grown to be a fully integrated textile solutions provider with offices and representatives in New York, Los Angeles, Dallas, Nashville, Winnipeg, Bangalore and Hong Kong. With three areas of activity, Olah Inc. is recognized throughout the textile industry as a leader in meeting the needs of a growing client base of fiber companies, textile manufacturers, garment manufacturers and brands. Staffed by a group of seasoned textile professionals, Olah Inc. has the experience and expertise to offer sophisticated solutions to complex problems.
Website: http://www.olahdenim.com