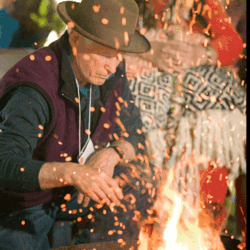 Sharing rich interfaith dialogue to help others live lives of meaning and purpose
Atlanta, Georgia (PRWEB) October 04, 2012
Spiritual leaders from diverse, global tribes and traditions will unite for Ancient Wisdom Rising in Atlanta November 9-11 to share their views on the changing and challenging times with local residents and business leaders.
Representing the Muscogee (Creek), Aleut (Alaskan), Cherokee, Bon (Tibetan Buddhist), Dine (Navajo), West African (Dagara), and Pakistan Sufi cultures, these Elders are considered to be individuals held in the highest esteem among their respective communities due to the wisdom they have been given and their responsibility to impart it in an effort to empower others.
Aptly named 'Ancient Wisdom Rising,' this event presents Atlantans with a rare opportunity to hear traditional, sacred stories that have been handed down for thousands of years and to listen to tribal leaders explain their relevance to contemporary tribulations. [Watch Larry Merculieff of the Aleut people in Alaska speak on "Natural Way: Indigenous Voices".]
Ancient Wisdom Rising offers a meaningful retreat for those who are facing health, financial, career and relationship challenges. It also provides a platform for those with influence - like Atlanta business leaders - to positively impact the lives of others by sharing what the elders teach.
"These are changing times," says Sobonfu Somé, an elder of the West African Dagara People. "Change is an inevitable part of life, but it can be challenging to the human mind and body. These ancient traditions offer ways to rise to the challenge and restore balance for ourselves, each other and the earth that sustains us."
Retreat activities primarily focus on the message of the elders as they share their views with attendees; also included are music, dance, light yoga, and meditation. Though not organized in a traditional business conference fashion, it is in line with the elders' belief that unity is an imperative for a positive transformation and must include harmonizing with Mother Earth, a term of endearment toward the planet shared by most indigenous traditions.
Held at The Lodge at Simpsonwood in Norcross, the 3-day event is surrounded by 227 acres of woodland along the Chattahoochee River. Ideal for adult groups or teams, all facilities on the campus are within walking distance. Simpsonwood is easily accessible from I-285, I-85 and GA 400.
Registration for the retreat is online at ancientwisdomrising.com. For more information, email awrreg(at)sacredfirefoundation.org or call 1-800-FIRE-011. Costs vary depending on choice of days and overnight accommodations and can be found online.
# # #
About Ancient Wisdom Rising and the Sacred Fire Foundation:
The Ancient Wisdom Rising Retreat is presented by the Sacred Fire Foundation. The foundation seeks to restore balance by igniting a heart-centered way to relate to each other, our communities, and our world. Through its magazine Sacred Fire and annual Ancient Wisdom Rising retreats, the foundation demonstrates the relevance of ancestral traditions and spiritual approaches in today's world. Charitable activities include financial partnerships, awards and grants to organizations that preserve and sustain traditional indigenous ways of life. For more information, please visit http://www.sacredfirefoundation.org.The foundation keeps cultures and traditions alive with biannual Wisdom Fellowships to tradition-holders that keep the sacred fires of their people burning. Financial partnerships and grants are given to organizations that preserve and sustain tradition indigenous ways of life, including restoration of cultural sites and the promotion of events that document, educate and communicate indigenous wisdom. The Sacred Fire Foundation also supports community development programs for indigenous people that promote sustainability of their culture and traditions and publishes Sacred Fire Magazine.
For more videos and articles about our upcoming presenters, click here for our AWR Newsletter.