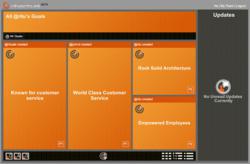 "With clear goals, you harness and focus your energy more powerfully." -Margie Analise
(PRWEB) October 01, 2012
The nation is still talking about President Obama's comment that entrepreneurs "didn't build that" in the midst of political fervor. Even though The Fiscal Times reported a decline of jobs from new businesses - from 4.1 million in 1994 to 2.5 million in 2010 - the entrepreneur spirit is still a working force in America.
As Mitt Romney said, "America is strong because of the ingenuity and entrepreneurship and Hard work of the American people."
Entrepreneurs survive on the foundation of innovation and hard work, accomplished by goal setting and performance management. Women entrepreneur coach Margie Analise and James Hicks, founder of HicksNewMedia, offer a few tips for success:
Create S.M.A.R.T. goals.
Hicks said setting goals and objectives helps him to remain focused and on task.
"If I didn't have an end goal, I'd never realize when something was accomplished," he said.
Hicks said the best goals are not only realistic and obtainable, but also written down. S.M.A.R.T. goals are specific, measurable, attainable, realistic, and timely--all aspects that are essential for the fast-paced life of an entrepreneur. Hicks also cautioned against stressing out too much to reach a particular goal.
"You definitely want to stretch and challenge yourself, but you don't want to set your initial goals so far out of reach that you become frustrated and lose focus," he said.
Simplify goals and objectives.
Analise said goals and objectives that are crystal clear are critical for success. Identifying what you want to achieve becomes a goal, while the plan of action that gets you there become objectives. Avoid becoming overwhelmed and focus on two or three goals at a time.
"With clear goals, you harness and focus your energy more powerfully," Analise said. "Think of running a marathon. You don't just show up on that day and run. You have to plan it out - it's everything from buying the proper gear to systematically working up to a full 26.2 miles."
Become accountable to others.
Analise said a checklist of action items along with a timeline should be referred to daily, since tracking your progress helps you to see how far you've come - and how long you have to go. Just like her marathon analogy, it also helps to have stakeholders - cheerleaders - to help motivate and inspire while those goals are being reached.
Hicks said both business and life change daily, fine-tuning goals is a necessary step. This can be done more easily - and without discouragement - when you collaborate.
"Don't try to conquer the world alone," Hicks said. "We're much better when we collaborate and leverage those around us."
Entrepreneurs can follow these tips and improve their performance management by signing up for Objectiveli.
Objectiveli is an online application that allows individuals to easily manage goals and objectives. Objectiveli was founded in 2012 by Ritu Raj. Raj is also the founder of OrchestratorMail, an email-based platform for coordination, Avasta, a cloud computing company, and Wag Hotels, the largest chain of dog hotels. Additional information can be found on Objectiveli's website: http://www.objectiveli.com.