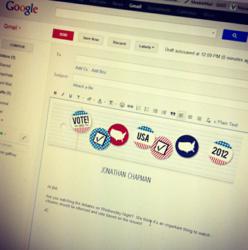 New York, NY (PRWEB) October 02, 2012
No matter what their party affiliation, MeebleMail.com has email covered with stylish personalized political email stationery for Democrats, Republicans, Red States, Blue States and those who just think it's important to vote.
Just in time for the Presidential debates, MeebleMail introduced a line of political email stationery - elephants and donkeys, stars & stripes - now consumers can adorn their email and let friends and family know just where they stand. Consumers can use the stationery to email invitations to election night parties, send online invitations to rallies for their favorite candidates, email thank you notes or just to add a little political flavor to every email they send.
The stationery is free and inserts directly into email using web-based Gmail, Hotmail, Yahoo! and AOL through your web browser. Click here to view the MeebleMail collection of Election Stationery.