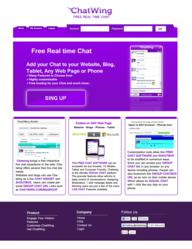 Los Angeles, CA (PRWEB) October 02, 2012
Chat boxes and micro-applications can never be neglected nowadays. Even though they are small in scale, their functionalities vary and many professionals rely on them everyday. Based on global research, people use small website applications to achieve certain purposes, such as RSS feeds, news, information, product knowledge, weather, social media interaction, and many more. The Chatwing Development Team has utilized this micro-application boom properly and introduced a website chatbox equipped with a vanity URL feature. This new feature has added more 'fuel' to the expanding social options that can be offered by the Chatwing chat application.
Vanity URL or direct link option allows users to create usernames and shortlinks. Afterwards, they can send these shortlinks to their friends and colleagues. Sending these shortlinks can be done through social media, email, blog commenting, and casual forum surfing. Basically, the purpose of the vanity feature is to initiate private group chats within the Chatwing free chat box. This makes the Chatwing app highly reliable in the fields of centralized online marketing, micro-blogging, email marketing, and even social media expansions. The continuity of the vanity URL style is simple: once the visitor clicks the vanity link, he will be taken in the Chatwing user's chat app. From then on, discussions can begin.
The vanity URL feature has been a part of Chatwing's strategic template, and it is gradually introduced in prominent blogging communities like Wordpress and Livejournal. From these blogging communities, hundreds of niche bloggers have relied on the vanity URL to achieve their ends. For example, product review bloggers have used the latest Chatwing feature to entertain several consumer groups within a relative time frame. The optimum results were delivered by Chatwing chatrooms in just minutes. Many bloggers have also benefited a lot from the easy installation process and high customization rate of the Chatwing free shout box.
In the coming months, the Chatwing Development Team has expected that more online sectors will begin utilizing the application's vanity URL option. These sectors—highly reliant in information—will realize the sheer importance of private group chats. To cope with the projected influx of users, the Chatwing team is planning for more upgrades related to platform speed and stability. Once these upgrades were covered, Chatwing's free chat widget will be recognized in a global scale, and many people will gain proper communication advantage.
About Chatwing.com
Chatwing.com specializes in the new field of website chat. Over years, the Chatwing team has introduced live chat box for hundreds and thousands of blogs. The Chatwing application bridges people from many parts of the world, creating global synergy through the Internet. The shout box can be installed in just seconds, and it can be used for varying purposes such as leisure and Internet marketing. It also allows a user to customize the size, color, and name of the widget. Chatwing is 100% free for everyone.