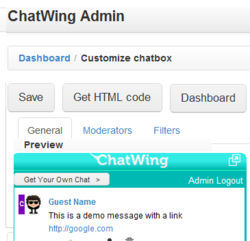 Boston, MA (PRWEB) October 04, 2012
Novelty items are sporting a comeback because of the appearance of hundreds and thousands of personal blogs across the Internet. In Wordpress community alone, the prominence of novelty item blogs are considered significant. This observation has been a part of Chatwing's online strategic plan. Chatwing is a company that specializes in creating website applications. Recently, Chatwing has launched a website chat box that is compatible to different blogs, whether they are used for personal or business purposes.
Chatwing's free chat box has been used for different goals. The most common goal noted by the Chatwing Dev Team is market research. Entrepreneurs from different niches are using the Chatwing app to find groups of people that may be interested with their products or services. Apparently, Chatwing's social media integration has helped achieve this purpose. With this social media option, users can log in with their Facebook and Twitter accounts. In turn, bloggers will be able to send out invitations and 'friend requests' to these users.
Novelty items change in manner and presentation. For example, a novelty t-shirt may be designed after a pop culture reference or hit movie. In a basic sense, anything that is timely and original may be covered by novelty items. People can use the Chatwing chatbox to share their novelty item creations, or any product they are reviewing. Generally, the discussion privileges in a Chatwing chatroom seem endless.
Over the course of three years, the Chatwing team has helped thousands of bloggers generate a stable stream of online visibility. This stream varies, depending on the content of the blogs and interaction rate of the bloggers. In the coming months, the Chatwing team will introduce new upgrades and developments to make the free shout box more efficient and reliable.
About Chatwing.com
Chatwing.com specializes in the new field of website chat. Over years, the Chatwing team has introduced live chat widget for hundreds and thousands of blogs. The Chatwing application bridges people from many parts of the world, creating global synergy through the Internet. The shout box can be installed in just seconds, and it can be used for varying purposes such as leisure and Internet marketing. It also allows a user to customize the size, color, and name of the widget. Chatwing is 100% free for everyone.