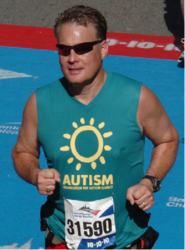 I've gained tremendous perspective on what matters in life and what's a real problem vs. just a nuisance
Saint Paul, MN (PRWEB) October 01, 2012
Five-star Amazon.com author, Tom Salonek (http://www.TomSalonek.com), is offering a free copy of his book Building a Winning Business in exchange for a donation to his friend's recovery.
Peter Quinn is Tom Salonek's best friend. Something happened a year and a half ago that fundamentally changed Pete's life (and, obviously, the lives of his family). While training for a marathon, Pete was struck by a driver who ran a red light. It left Pete paralyzed. His commitment to walk again is inspiring and, given he was a runner and the Twin Cities Marathon is less than a week away, Salonek wrote The power of Pete that was published in the Star Tribune. As the article explains, Pete was between employers when he was struck, leaving him without a job, without disability insurance, and healthcare insurance limited to the COBRA required time limit.
As thanks for anyone who makes a donation via the Donate button on Pete's video blog, Salonek is offering a free copy of his book Building a Winning Business: 70 Takeaways for Creating a Strong Company during Good and Bad Economic Times. To receive a free copy, email tsalonek(at)intertech(dot)com with your address and PayPal transaction number.
About Building a Winning Business Author Tom Salonek and Intertech
Tom Salonek is the founder and CEO of Intertech, a Minneapolis-based technology consulting and training firm. In 2005, he was named one of Minnesota's Top Business Leaders under 40. Intertech has been named twice to INC 500's list of fastest growing companies, and is also a seven-time winner of the Business Journal's Best Places to Work award. In 2003, Salonek founded the Intertech Foundation to financially assist families with critically ill children.
Tom Salonek has completed executive education at the Harvard School of Business and the Massachusetts Institute of Technology and is a past instructor at the University of St. Thomas Management Center. He holds a degree in Computer Science from the University of St. Thomas. Salonek has written more than 50 articles on business, leadership and technology.
Intertech works with NASA, Wells Fargo, Lockheed Martin, Microsoft, Intel, and other major companies around the United States helping them learn and use technology.
Intertech is a Microsoft Gold Partner, a Microsoft Inner Circle member, an eight-time winner of the "Best Places to Work in Minnesota" award from the Business Journal, the 2012 top mid-sized firm to work for by Minnesota Business magazine, a finalist in the Wall Street Journal's "Winning Workplaces" award program, a two-time winner of the Inc. 500 and a five-time winner of the Inc. 5000 awards for company growth, a winner of the Forbes "ASAP" growth award, and a winner of the "Minnesota Fast 50" growth award.
Intertech has been featured in Inc., Forbes, the Star Tribune, the Business Journal, the Pioneer Press, the Hudson Star-Observer, Minnesota Business, Twin Cities Business Monthly, and Upsize magazine.