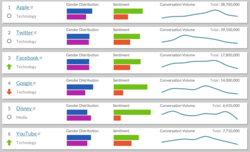 "As brands are being more and more influenced by consumers, market research has shown that the more positive conversation a brand has the more likely that there will be awareness, influence, loyalty, and ultimately, purchasing."
- Justin Graves, Infegy
Kansas City, MO (PRWEB) October 02, 2012
Infegy, Inc., today announced the availability of "Top 50 Social Brands", a weekly interactive brand monitoring and ranking application built using Social Radar, Infegy's market-leading consumer research monitoring and analytics platform.
"As brands are being more and more influenced by consumers, market research has shown that the more positive conversation a brand has the more likely that there will be awareness, influence, loyalty, and ultimately, purchasing", said Justin Graves, CEO, Infegy, Inc.
"Top 50 Social Brands" are ranked based on relative total positive conversation over the past week. All data is interactive, showing relative volume of conversations, change in volume of conversations (posts), key topics of interest, sentiment scores and gender distribution.
"Top 50 Social Brands leverages the power of Social Radar's Application Programming Interface (API) for developing innovative data-driven social media applications that tap into consumer conversations and insights for increased productivity and bottom line results", said Graves.
Availability
The "Top 50 Social Brands" application is freely available at top50.socialradar.net
The data within the application updates every Monday, ensuring the rankings always reflect the most recent data available. Application source code for "Top 50 Social Brands" has been placed in public domain and is available via Github. In addition, qualified news agencies will be provided access to the Social Radar platform for conducting market research.
About Infegy, Inc.
Founded in 2007, Infegy, Inc. is the provider of Social Radar, the industry's most intelligent consumer opinion monitoring and analytics platform. Delivered through the cloud, Social Radar enables organizations to instantly listen and discern meaning from billions of conversations that occur every moment on the web and through social channels. Social Radar's proprietary analytics and algorithms extract valuable, sentiment-based and actionable information within a 5 year historical context that is used to develop successful marketing strategies and bring to market competitive and improved products and services that better meet the needs of consumers and business users. Tapped by enterprises, advertising agencies, and market research firms, Social Radar is used by and for some of the world's most innovative brands, including Viacom, Samsung, Arby's, Sprint, Pizza Hut, Sony, and DirecTV to determine the tone of the marketplace and tune into what consumers want. Infegy can be found on the web at http://www.infegy.com