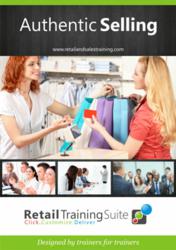 Retail is a contact sport, you can expect a few knocks. Great salespeople have the resilience to bounce back, while others fall flat.
(PRWEB) October 04, 2012
There is an age old saying – 'retail is a contact sport, you can expect a few knocks'. Yet as true as it was decades back when that saying was coined, it's even truer today. Millionaire sales people have a higher level of resilience, drive and focus than others. They're not restricted by limited beliefs or reasons why they can't achieve - they have an abundant mindset. Retail sales training needs to provide tools to help sales people bounce back from the inevitable knocks they'll face.
Authentic Training Company Founder Melissa Davies says, "When you ask a poor performing sales person why they're not achieving, the excuses are endless. But when you start delving further, seven common patterns of thinking emerge." The three most common limited thinking patterns that hold sales people back are provided below.
Fear Thinking is the most common of all limited thinking patterns. Fear Thinking sales people expect and even visualize disaster. Company Founder Melissa Davies says – "A classic example of Fear Thinking comes with offering add-ons. We asked 500 sales people, who were failing to meet their items per transaction targets, why they didn't consistently offer add-ons. The vast majority believed that if they did the customer would think they were greedy and withdraw the entire sale. They didn't want to jeopardize a $1000 plus sale for the sake of another $20. Yet when asked if they had ever had a customer walk away because they offered an add-on, they acknowledged they hadn't, but were worried they could." Fear thinking is anticipating the worst possible outcome, no matter how illogical it is.
Another common limited thinking pattern is Telepathic Thinking. These sales people think they know what people are thinking or feeling just by looking at them. For example, they just know what a customer can or cannot afford to buy, what they will buy or if they'll be a complete waste of time. They make assumptions about people based on their perceptions of them, which are quite often wrong and downright rude. They assume customers won't buy unless an item is on sale, or that they won't wait for one to be ordered in if it's out of stock, and so they only sell the products they think customers want.
Then we have sales people who assume everything people say or do is some kind of reaction to them. Their limited thinking pattern is Personalized Thinking. They personalize situations, issues and challenges to them. They take it really bad when a customer is rude to them as if the customer purposely targeted them. It couldn't be that the customer was just in a bad mood. They think their manager doesn't like them, and that their colleagues are out to get them. Personalized Thinkers don't last long in sales.
We all have two or three limited thinking patterns we revert to in times of stress. They blind us from seeing the complete picture and reaching our full potential. Once we identify those of our sales team, we can then look at alternative approaches to help us overcome them through retail training. Top performing sales people aren't limited in their thinking. They run a completely different internal dialogue and have a different view of the world. They're not focused on what they can't achieve – but what they can. They're not focused on the sales they lost – but the sales yet to make. They're not focused on the one negative customer interaction – but the thousands of happy customers they do have. The Authentic Training company have launched a new training package that helps develop both the skills and the mindset for success.
Further information:
Melissa Davies, Company Founder
Authentic Training
http://www.retailandsalestraining.com
Go to our site for a full list of the most common limited thinking patterns of sales people with techniques for overcoming them through retail selling skills training.
Authentic Training specializes in developing innovative retail sales training packages that small business owners, managers and trainers can deliver themselves. Their vision is to provide a suite of tools that empower retail teams to achieve unprecedented levels of success and professionalism.