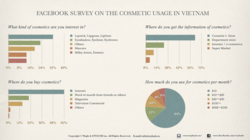 Let's try to get a First Mover Advantage in Vietnam cosmetics market!
Tokyo, JAPAN (PRWEB) October 11, 2012
WEGLO Inc. which provides a supporting platform of overseas business companies and Stylush Inc. which operates the beauty and cosmetic information site "STYLUSH" and conducts research in Vietnam collaborated for a survey of Cosmetics in Vietnam. The results are as follows.

Now Vietnam shows a  strong economic growth and an  increasing household income. We expected the rising demand of cosmetics. However, there is a partial  survey result and we  still have no information about the current results. The survey is necessary to activate the  beauty industry's players to enter the  Vietnamese market. For this reason, we checked the  basic demands data in Vietnam and the results are as follows:
Date : 20th July to 9th Aug 2012
Method : Internet Survey of STYLUSH Facebook users
Target people : Age 10 to 30, Female
Total : 8 questions
About "STYLUSH"
URL: http://www.stylush.vn
Facebook: http://www.facebook.com/stylush
"STYLUSH" delivers the"how to's" of beauty and make up for Vietnamese females. The main members are 20-30 years old. Online ads, Internet research and cosmetic e-commerce are done using websites such as Facebook.
 The most popular cosmetics were "Lipstick, Lip gloss, Lip-liner" =  32.5% of the total answers. Next are "Eye-shadow, Eye-liner, Eye-brow pencil " 23.3%. Vietnamese females show an interest in major cosmetic products.
Regarding the frequency of making up, "Not at all" is 39.8%, and "Sometime" is 28.2%. It shows that it is still early stage to make up for Vietnamese female.
Usually they worry about  :"Skin-care" mostly 33.6%, next is "How to apply make up" 20.0%. To avoid sunburn and to make skin beautiful and white are the most important generally. We could know many are interested in "Skin-care". 
Regarding the expense for cosmetic products per month, 10USD is 63.8%, 10-20USD is 12.4%. Still Vietnamese likes cheaper goods, but 8% said more than 100USD. We could confirm heavy users of cosmetic goods. 
Where Vietnamese buy cosmetics : "Cosmetics shop" is 62.2%, "Department store" is 23.3%, and on the  "Internet" is 9.7%. How to know about Cosmetic information:  "on the Internet" is 59.7%, and " word of mouth" from friends is 21.7%. We understood Vietnamese use the  Internet to get general information. In Vietnam, credit card penitration is still low , but if infrastructure is improved, they may use e-commerce quickly.
What they think is  important : "Famous makers" is 39.5%, and "Ingredients of goods" is 33.3% when they buy cosmetic products. They tend to care if the products is made by organic. This means the promotion to show the lower influence to skin is very effective.
What kinds of situations do  they put  make up on for ?, " Weddings  is "60.4%", and "Dating" is 12.1%. Now,  they are starting to put make up on when going on a date with their boyfriends.  We can expect further usage of cosmetic goods in Vietnam.
Company Name : WEGLO Japan Inc.
URL: http://weglo.in/
Facebook:http://www.facebook.com/Weglo.in
Business : Support Platform for companies' Oversea business
Market Research, Strategy, Execution
Human resource
Company Name : Stylush Inc.
URL : http://www.stylush.vn
Facebook : http://www.facebook.com/stylush
Business : Cosmetic News Site
e-commerce of Cosmetic products in Vietnam
Research of Vietnam Makret