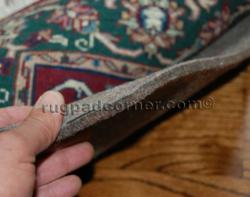 Wilton, CT (PRWEB) October 02, 2012
Rug Pad Corner, the online source for quality felt and rubber rug pads, has discovered that various manufacturers are blowing air into their felt rug pads as a way to increase the thickness of the felt. Many rug pads described as 40 ounce quality contain this air and, according to Rug Pad Corner, this is an inferior way to produce a quality rug pad.
"A true 40 ounce rug pad should contain 40 ounces of pure felt per square yard of rug pad", states Sam of Rug Pad Corner. "When air is substituted for the felt, the rug pad is compromised and will not be as dense, nor will it offer protection." Sam continues to explain that a true 40 ounce rug pad is both thick and dense. When it contains pure felt, the rug pad will maintain its thickness and density level for several years of use. In rug pads containing air, the air will escape the rug pad after short use, resulting in a thinner rug pad that is much less dense that a 40 ounce rug pad should be.
One of the main reasons manufacturers utilize this air blowing process is to save on cost of production. Since air is free, it costs far less than using all felt. Traditionally, a 40 ounce rug pad is about 1/2" thick and the air blows the felt to this thickness at first. The issue arises after some use when the air escapes. The rug pad then becomes considerably thinner than it should be and loses its density. "Unfortunately, these suppliers skimp on quality based on pricing", continues Sam. "They seem to rather offer an inferior product just to keep it at a lower selling price, making it attractive to consumers."
Rug Pad Corner manufacturers its rug pads in the USA and its Superior 40 ounce rug pad is just that, 40 ounces of pure felt per square yard of rug pad. According to Sam, the company will not compromise the quality of its rug pad in order to lower the selling price. The felt is needle punched together and then heat pressed into a very dense and compact 3/8" thickness that will maintain this thickness and density for more than fifteen years of use. "A 40 ounce rug pad is meant to be the most dense felt rug pad offering the best protection to rug and floor and we intend to keep it this way", states Sam. "The ones with air will mat down, shed and offer minimal protection and it is best to avoid these."
Visit Rug Pad Corner for Superior 40 ounce rug pad in various sizes and shapes. The company offers custom cut rug pads at no additional cost and offers free shipping within the contiguous United States.