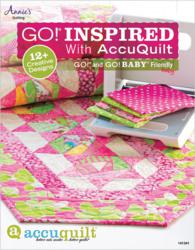 AccuQuilt makes it possible to create quilts that, for many, would otherwise be impossible. –Carolyn S. Vagts
Omaha, NE (PRWEB) October 01, 2012
AccuQuilt announces the release of a brand new book for quilters and fabric crafters titled "GO! Inspired With AccuQuilt". Published by Annie's, a division of DRG, and edited by Carolyn S. Vagts, the book includes step-by-step instructions for a variety of fantastic quilts, table toppers, bed runners, home décor, and more.
"It's exciting for us to see designers utilizing AccuQuilt GO!® products as inspiration for their pattern designs," said Lynn Gibney, Director of Marketing for AccuQuilt. "The collection of creative projects in 'GO! Inspired' appeals to a wide group of tastes and styles, and gives quilters even more options to get the most out of their GO! fabric cutting experience."
Using the AccuQuilt GO! and GO! Baby fabric cutters allow quilters and fabric crafters a fast, precise, and easy way to spark their imaginations with 12 newly inspired designs. This book makes it easy for quilters to use their GO! cutters to stretch their talents by moving beyond basic shapes and avoiding slow, tedious cutting.
"GO! Inspired With AccuQuilt is a fabulous source for ideas," said Carolyn S. Vagts, Editor of GO! Inspired with AccuQuilt. "I enjoyed working with the AccuQuilt cutting system and the designers. I actually have a project in this book myself. AccuQuilt is such a time-saving tool and for today's busy quilter, that's an important feature. AccuQuilt makes it possible to create quilts that, for many, would otherwise be impossible. With a bit of imagination, fabric and this cutting system a quilter can accomplish what normally they wouldn't attempt. The possibilities are endless. GO! Inspired With AccuQuilt is full of creative designs to inspire quilters to GO! For it."
This book offers 64 pages in brilliant color, packed full of images that will inspire quilters and fabric crafters to make truly amazing works of art. It's perfect to pass on to other quilters, use as reference, or offer as a thoughtful gift. It's also ideal for beginners who are just learning how versatile the GO! fabric cutters are as well as seasoned quilters who are looking for new patterns and projects to challenge their talents.
GO! Inspired With AccuQuilt retails for MSRP $14.95 in the U.S and $17.95 in Canada. The book will be available from Annie's or AccuQuilt for retailers. Look for it at your local retail stores, online stores and of course at http://www.accuquilt.com.
About AccuQuilt – Better Cuts Make Better Quilts®
Headquartered in Omaha, Neb., AccuQuilt offers quilters, fabric crafters and retailers a premiere line of fabric cutters, dies, quilting patterns and other quilt and fabric cutting solutions that help quilters quickly and accurately cut shapes for quilting and fabric crafts. AccuQuilt also offers quilters a wide variety of rich educational resources to enhance their quilting experiences. Cutting with AccuQuilt cutters is a natural evolution of fabric cutting methods. "First scissors…then rotary…finally…AccuQuilt®" for fast, easy, accurate fabric cutting. Visit AccuQuilt online at http://www.accuquilt.com