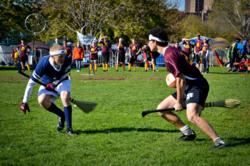 "We can't wait to have our players and spectators come out to Green Hill Park for one of our organization's premier events, as the top teams in the Mid-Atlantic battle it out on the pitch for a spot at the sixth annual World Cup." - Logan Anbinder
Roanoke, Va. (PRWEB) October 02, 2012
Officials from Roanoke County Parks, Recreation and Tourism (Roanoke County PR&T) and the Roanoke Valley Convention & Visitors Bureau (Roanoke Valley CVB) announced today that Virginia's Blue Ridge was selected to host the International Quidditch Association's (IQA) first-ever Mid-Atlantic Regional Championship, Nov. 3-4, 2012 at Green Hill Park in Roanoke County. The Mid-Atlantic region spans from North Carolina to New Jersey and encompasses some of the sport's most active and competitive teams. The winner qualifies to compete in Division I at the IQA World Cup.
Landon Howard, President of the Roanoke Valley CVB said, "Our job is to solicit sports groups matching the venues offered in the region. Roanoke County worked collaboratively with the Bureau to provide a proposal fitting the needs of IQA. We were ecstatic to learn the Roanoke Valley was chosen over Winston-Salem, NC, College Park, MD and Salisbury, MD."
Based on the fictional sport played on broomsticks in the popular Harry Potter book series, quidditch is one of the fastest growing club sports on college campuses nationwide. The game features a seven member co-ed team competition with elements of rugby, dodgeball and hide-and-seek.
The Mid-Atlantic Region consists of 27 official teams from Virginia, West Virginia, Washington, DC, Maryland, North Carolina, New Jersey, Pennsylvania and Delaware. IQA expects between 20-30 teams and 400-600 athletes to participate over this two day event, with approximately 2,000 spectators, including family, friends, fans and media. Top finishers will compete in the Quidditch World Cup to be held this April in Kissimmee, FL.
"The IQA is extremely excited to hold our Mid-Atlantic Regional Championship Tournament at Roanoke County's Green Hill Park," said Logan Anbinder, IQA Mid-Atlantic Director. "It's clear that both the Roanoke County staff and facilities are perfectly suited to the blend of competition and whimsy that makes quidditch such a unique sport. We can't wait to have our players and spectators come out to Green Hill Park for one of our organization's premier events, as the top teams in the Mid-Atlantic battle it out on the pitch for a spot at the sixth annual World Cup."
At today's announcement at Green Hill Park, members of the Virginia Tech Quidditch Team offered a demonstration of how the game is played, and representatives from Roanoke County described several free, family activities that will be presented in conjunction with the tournament, including the Tri-Wizard Tournament on Saturday, November 3, from 10 a.m. - 5 p.m.
"We are very excited to be partnering with the IQA", says Doug Blount, Director of Roanoke County Parks, Recreation & Tourism. "Not only will this event provide a new and exciting brand of sports tourism for the Roanoke Valley, it will also afford local residents the opportunity to come out to Green Hill Park and enjoy a day of community fun."
# # #
About IQA - The International Quidditch Association has nearly 300 official members worldwide. Along with Virginia Tech, other quidditch teams across Virginia include the University of Virginia, Virginia Commonwealth University, the University of Richmond and Christopher Newport University.
For more information about the sport, visit http://www.internationalquidditch.org, or for information about this tournament, visit http://internationalquidditch.org/mid-atlantic-cup/
The IQA will host nine Regional Championships beginning in October 2012 and continuing through March 2013. There will be a total of nine regional events; one in each of the following regions: South, Southwest, West, Mid-Atlantic, Northeast, Midwest, Canada, Europe, and Oceania. To request a press pass to the event, please visit: http://tinyurl.com/quidditchpress
Available for phone interviews:
Logan Anbinder, International Quidditch Association
Mid-Atlantic Regional Director
Convention Representative
QuidCon 2013: Marketing/Communications Director
World Cup Organizing Team: Teams Sub-Department Director
(410) 916-6450
logan(dot)anbinder(at)internationalquidditch(dot)org Carissa Crossett
Mid-Atlantic Regional Championship Marketing Coordinator
Pennsylvania State Representative
IQA Tournament PR Liaison
World Cup VI Registration and Scheduling Coordinator
(484) 620-6603
carissa(at)internationalquidditch(dot)org
Contacts:
Scott Ramsburg
Business and Information Manager Roanoke County Parks, Recreation and Tourism
sramsburg(at)roanokecountyva(dot)gov
Office: (540) 777-6327
Catherine Fox
Director of Tourism & Communications
Roanoke Valley Convention & Visitors Bureau
cfox(at)visitroanokeva(dot)com or (800) 635-5535
http://www.visitvablueridge.com