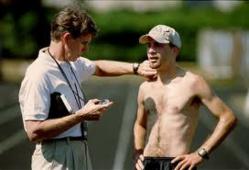 The only way to accurately judge recovery is through heart rate because that is the engine pulling the train
Bozeman, MT (PRWEB) October 01, 2012
World record holder Rusty Squire has released his book, "How To Elevate fitness With Strength and Interval Training", as a free download at the Heart Rate Watch Company website and also at the Heart Rate Watch Company blog.
"So many exercise classes, and even instructors, worked off timed rest intervals - which is the wrong way to approach rest during high intensity exercise", says Squire. He adds, "The only way to accurately judge recovery is through heart rate because that is the engine pulling the train".
Squire wrote a previous book entitled "How to Successfully Use A Heart Rate Monitor", which was all about aerobic base building. "It just made more sense to discuss foundation fitness first", he said, adding that, "too many people are pushing high intensity exercise these days but that puts the cart before the horse as aerobic fitness must come first".
"We had doctors and others in the medical profession calling to tell us how much they enjoyed our first book and one Doctor told me he lost 30 pounds and had not been in this good a physical condition since he was in high school", says Squire. "People's success stories encouraged me to write the companion book on strength and interval training", he says.
The book is available as a free download from a banner on the Heart Rate Watch Company's homepage and anyone is allowed to download it as a free Adobe PDF. "We discussed charging for the book but felt that giving people good, accurate information was important", says Squire.
"People remember those who give them good information with value, so perhaps they'll buy a heart rate monitor from us once they have made the commitment to get fit", Squire says.