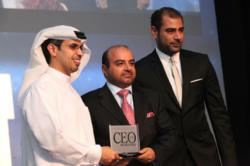 ILA Group Chairman awarded for his business excellence
(PRWEB) October 01, 2012
During the awards ceremony of the 2012 Middle East CEO of the year awards which was held in the Jumeirah Emirates Towers hotel in Dubai-UAE on the 23rd of September, 2012, Dr. Saad Al Barrak, ILA Group Chairman was awarded the award in recognition of his unique and outstanding contributions both regionally and internationally in the business worlds of mobile telecommunications and ICT.
The award recognizes Dr. Saad Al Barrak for his international leadership and business excellence which led the corporations and multi-national companies that he led to dominate their markets. The award also recognizes his great contributions in exemplifying corporate social responsibility and his passion to serve communities by working hand-in-hand with them to meet their economical and social needs.
Dr. Saad Al Barrak currently leads ILA Group which invests and manages a group of telecommunications and ICT companies around the world.
ILA Group has established ILA Advanced Technology S.A.E. in Cairo, Egypt. ILA Advanced Technology (ILA) is a pioneer in providing cloud-computing and Machine-to-Machine (M2M) services in the Middle East and African markets. ILA Advanced Technology provides cutting-edge solutions from around the world that serve smart buildings, vehicles safety, embedded mobility, physical security and business needs for both the public and private sectors.
ILA Group is in a 50/50 equal share joint venture with Mobo-Computing Inc. ILA Group and Mobo-Computing Inc have created Mobila, a technology company which operates from the USA and Canada. Mobila has pioneered the development of patented technology that enables real time content customization and optimization for mobile devices with substantial reduction in latency and bandwidth consumptions. In addition, Mobila provides telecom operators with proven process and solution in carrier cost control and gross margin optimization.
ILA Group has also a multi-faceted strategic partnership with Red Lambda, Inc., to address the new generation cyber-security threats targeting networks within enterprise, government and service provider organizations across the Middle East. Red Lambda, based in Orlando, Florida, enables businesses and government agencies to effectively secure their data through advanced, Big Data analytics technologies that break through the barriers and limitations of existing legacy systems and appliance-based offerings.
For more information about ILA, contact:
info@ila-group.com