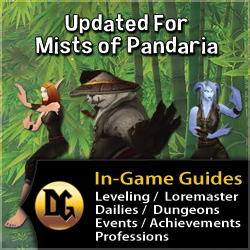 (PRWEB) October 02, 2012
With the recent release of WoW's new expansion, Mists of Pandaria, the new Monk class is now a choice for players. Not only are players eager to try out the Monk class, but they are also striving to be among the first players to bring a Monk to 90 so they can start playing with their friends and guildmates.
In order to reach level 90 quickly so that they can participate in raids and PvP, many players have turned to Dugi's Ultimate WoW Guide, which has just released its Mists of Pandaria update. The legendary software guide is now up to date for players who want to level Monks as well as for those just going from level 85 to 90.
What makes Dugi's Guide so popular amongst players? This particular guide is more popular than traditional text-based guides since it is software rather than a book. Instead of tabbing back and forth between the game and text-based guides, players who install Dugi's Ultimate WoW Guide get an add-on based strategy guide that is displayed in the World of Warcraft client. This technology makes Dugi's Guide among the most popular and effective World of Warcraft guides.
In particular, Dugi's Guide has remained one of the most popular WoW guides because it uses a GPS system where an arrow appears on screen and directs players to their next target. It automatically calculates the fastest leveling path and points players to the most efficient next action, whether that be picking up a quest item, fighting an enemy, or even picking up new quests or turning others in.
While Dugi's Ultimate WoW Guide is not the only software-based World of Warcraft guide, its difficulty level setting is what separates it from the pack. Players who are not starting out fresh and have a lot of heirloom items can set the difficulty to "hard". Dugi's Guide then directs players to a more difficult but faster questing route that new players would be unable to complete.