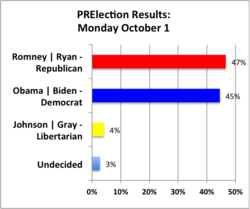 (PRWEB) October 01, 2012
The PRElection App results as candidates prepare for Wednesday night's debate show Romney 47 and Obama 45, with Johnson (Libertarian) 4. Voting statistics will be baselined at 5:00 pm on Wednesday to determine the effects of the first presidential debate on PRElection voters. The narrow gap between Obama and Romney (well within the margin of error) intensifies the importance of the debate. Of particular interest is the number of PRElection voters that may change their vote after the candidates square off directly for the first time Wednesday night, and both camps continue to challenge each other over handling of the economy and recent events in the middle East.
PRElection allows the candidates to establish their own PREview Candidate page and to provide a link for voters to Donate. Candidates can also send messages directly to targeted voters through "push" notifications, greatly enhancing the voter/candidate experience.
PRElection is a free app available in the Apple app store that allows voters to pre-vote for the candidate of their choice. This week PRElection is releasing an update expanding voting to all 468 House and Senate races in addition to the Presidential race. Voter supplied demographics including registered and likely voters, age, education, geographic location, ethnicity and other categories are used to provide detailed analysis of PRElection results.
More information for voters and candidates is available on the PRElection App website: [http://www.PRElectionApp.com __title__ PRElectionApp.com].
PRElection is available in the App Store: [http://itunes.apple.com/us/app/prelection/id559954385?Is=1&mt=8 __title__ Prelection App]