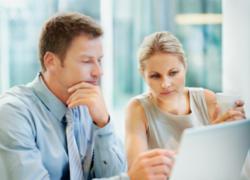 A few hours with a Budgeting Coach can change your financial outlook forever
Clarkston, MI (PRWEB) October 02, 2012
43% of US workers have less than $10,000 saved for retirement and debt is on the rise again. Yet according to a study by Consumer Federation of America, 80% of the survey's respondents rated themselves as "good" or "excellent" at family budgeting and handling credit card debt. "That's quite a conundrum," says Michael Kastler, founder of Kastler Consulting Group.
To help close that knowledge gap, Kastler Consulting Group has announced a new budgeting coach service that provides individuals with a customized personal finance roadmap that makes the financial journey a lot easier. Using a "buddy system" model similar to that of Weight Watchers and other improvement programs, Kastler's program delivers the tools, education, and support necessary to improve one's financial wellness.
According to Kastler, about half of families don't have a financial plan and don't know how to go about getting one. There are not many qualified resources that can help. Says Kastler, "Financial Planners and Accountants are in business to help with investing and tax planning, and typically don't have time for one-on-one budgeting assistance. We saw that gap in the market and developed the tools, the training to use the tools, and the "buddy system" approach to keep the client on track."
Another statistic is that a staggering 90% of Americans believe that financial stress can affect health. Getting a good financial plan also makes sense for health purposes. Ironically, Kastler's budgeting coach service provides a set of "Financial Wellness" indicators that essentially show the client how they're performing in certain financial areas such as their Emergency Fund, Credit Score, Debt-to-Income ratio and other areas. As Kastler explained, "The Financial Wellness indicators are a very important part of analyzing the client's situation and then we can together create the financial roadmap. Reviewing the Financial Wellness metrics regularly gives us trends to see if the client is improving or not."
Kastler's budgeting coach services can be found on his website. Programs purchased are downloaded for immediate use. A Windows-based PC and Microsoft Excel are prerequisites.
About Kastler Consulting Group
Kastler Consulting Group, LLC is a Michigan based company with a mission of "Building Stronger Individuals, Communities and Businesses," through financial literacy and financial wellness tools and services.
Michael T Kastler is the founder, a Budgeting Coach, developer of the Family Financial Solution Series, and author of a personal finance book, "Get a GRASP on Your Budget and Your Cash." His budgeting money tips blog that helps individuals become financially literate, debt free and meet their financial goals can be found at http://www.budgetingmoneytips.com.