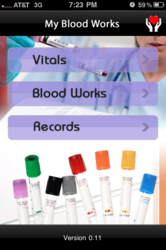 (PRWEB) October 02, 2012
Glen Ogle, creator MyBloodWorks, has launched an interactive blog at http://mybloodworks.blogspot.com that features tips, screenshots, walkthroughs and more to help current and future users benefit from all that the innovative health app has to offer.
"I created the MyBloodWorks blog because I felt it was important for people to get an even clearer understanding of how easy and beneficial the app is," commented Ogle. "I know there are some people who think that an iPhone health app must be complicated and take hours or days to figure out. But MyBloodWorks isn't like that at all – it's designed to start working and helping immediately, and can be mastered in a matter of minutes. It's a high-tech, low-touch experience and the blog is a great way to showcase this to people around the world."
MyBloodWorks, which has been featured on the iTunes What's Hot list for several months, tracks vitals and blood levels. It also functions as a medical secretary app that stores and organizes health information, including medication, physician appointments and more. Users can also email blood test results to their physician or any member of their health care team.
People with a medical condition that requires tracking and monitoring of vitals and blood levels can download MyBloodWorks from iTunes at http://itunes.apple.com/ca/app/mybloodworks/id463529273?mt=8. The app is compatible with iPhone, iPad and iPod touch, and requires iOS 3.0 or later.
Current and prospective users can also explore the MyBloodWorks blog and starting on October 4, they're invited to join Ogle on a guided, step-by-step tour of MyBloodWorks' features, so they can learn how simple and easy it is to start monitoring their health. Plus, the first 20 people who email Ogle at glen(at)mybloodworksapp(dot)com will receive a promo code that will allow them to download and try MyBloodWorks free for 30 days.
For more information or media inquiries, contact Glen Ogle at glen(at)mybloodworksapp(dot)com.
About Gogle LLC
GOGLE LLC is dedicated to creating the best patient medical apps. The company's flagship app, MyBloodWorks, tracks health through vitals and blood