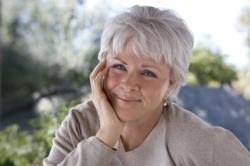 I found a joy within me that has never disappeared, not for a single moment. That joy is in everyone, always
Ojai, CA (PRWEB) October 03, 2012
The Work with Byron Katie in Ojai, CA will be presented in person and as a live webcast. This intimate gathering will give participants a chance to interact directly with Katie by asking questions and doing The Work on their own issues. The Work is a way of identifying and questioning the thoughts that cause all the suffering in the world. Millions of people have found happiness by undoing their stressful thoughts through this process, allowing their minds to return to its true, awakened, peaceful, creative nature.
"I discovered that when I believed my thoughts, I suffered, but that when I didn't believe them, I didn't suffer, and that this is true for every human being. Freedom is as simple as that. I found that suffering is optional. I found a joy within me that has never disappeared, not for a single moment. That joy is in everyone, always."
—Byron Katie
Live With Byron Katie: http://www.livewithbyronkatie.com
Schedule: Saturday, 3 November 2012, 2-5 p.m. PDT
Registration: In-Person Event $70; Live Webcast $38
http://thework.com/ojai
Byron Katie has one job: to teach people how to end their suffering. Katie has been bringing The Work to millions of people around the world for more than twenty years through her website (where everything you need in order to do The Work is free), public events, weekend workshops, the nine-day School for The Work, and her 28-day residential Turnaround House program. She is the author of three bestselling books: Loving What Is, I Need Your Love—Is That True?, and A Thousand Names for Joy; her other books are Question Your Thinking—Change the World, Peace in the Present Moment, Who Would You Be Without Your Story? and, for children, Tiger-Tiger, Is It True? For more information visit http://www.thework.com.
Contact Info:
Byron Katie International
805.444.5799
800.985.2843
registration(at)thework(dot)com