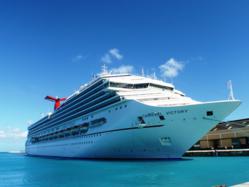 He also made the point that the changes in the new bill would also put Barbados in a better position to compete in the highly competitive cruise industry.
(PRWEB) October 01, 2012
Casino gambling will soon be allowed on cruise ships docked in Barbados as part of legislative changes to boost the country's tourism product.
Totally Barbados can also confirm that a number of other allowances have been proposed under the new Cruise Ships (Opening of Facilities) Bill, which has been laid in the island's parliament. They include allowing the cruise ships to open their bars and duty free shops while at berth.
There are some conditions though. The ships would have to stay in port for a minimum of 12 hours and can only open their shopping and gambling facilities from 6 p.m. to 6 a.m. Opening the casinos while in port would also require a license, which would be issued by the minister responsible for shipping, in consultation with the country's betting and gaming committee.
Casino gambling would also be restricted to only registered passengers on the cruise ships, to prevent Barbadians from going onboard to participate. That's because casino gambling is illegal on the island, although there are several gaming establishments where slot machines are legally played.
The Cruise Ships (Opening of Facilities) Bill was laid in the name of Minister of International - Transport George Hutson. He said the changes would bring potential benefits to Barbados, while addressing some concerns raised by the cruise industry.
He said the minimum time at the port was intended to give passenger the chance to experience more of Barbados and thereby spend more. The expectation is that small businesses in particular, like taxis, bars, restaurants and tourist attractions] would be the primary beneficiaries.
Minister Hutson said the measures would also strengthen the country's home-porting drive. Home-porting is when people fly into a country for the sole purpose of starting their cruise vacation from that destination. The Minister said this currently accounts for about 20 percent of cruise passengers in Barbados.
He also made the point that the changes in the new bill would also put Barbados in a better position to compete in the highly competitive cruise industry. According to him, this is important since other destinations like Bermuda, the Cayman Islands, the Bahamas and St Maarten have a natural advantage over Barbados simply because they are closer to America where most of the cruises originate.
That means the ships spend less in fuel, which is a major expense for cruise lines, to reach those countries. Barbados therefore has to make sure what it offers is enough to overcome that disadvantage.
The changes to allow cruise ships to open their facilities while docked in Barbados have however not been embraced by everyone.
Opposition parliamentarians have said they are not convinced that the arrangement will benefit the island. Some have even suggested that it will be counterproductive because it will encourage passengers to spend more time onboard the ships while in port.
They also noted that it goes against the long held tradition of not permitting casino gambling in Barbados.
Several church leaders have also come out against allowing casino gambling. They said there are many negatives associated with the activity that cannot be ignored.
BOILER PLATE
About Totally Barbados and Brecal Inc.
Brecal Inc., operating under the name 'Totally Barbados' was founded by Brett Callaghan and is based in Barbados in the Caribbean. The company was incorporated February 24th, 2005.
Totally Barbados was voted the "World's Leading Travel Destination Website" for 2008, 2009 and 2010 by the World Travel Awards.
By guiding visitors to Barbados hotels, car rentals, restaurants, attractions and more on Totally Barbados dot com, visitors can easily plan their entire holiday and vacation, before arriving in Barbados.
Promoting all there is to know about the Caribbean Island of Barbados - that's Totally Barbados.
MEDIA CONTACT
Founder and Managing Director
Brett Callaghan
Brecal Inc. / Totally Barbados
140 B Durants Fairways,
Christ Church, BB17097,
Barbados.
For more information on Brecal Inc. / Totally Barbados, please call (866) 978-5898 or (246) 420-2420.
Email: service(at)totallybarbados(dot)com