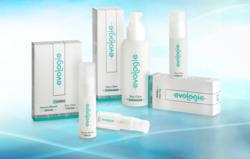 "Try it. See it. Believe it. Let the mirror be your judge" is the way Dr. Nagel puts it. "We never lose sight of the powerful emotional impact the condition of your skin can have on individual happiness and wellbeing."
Newton, MA (PRWEB) October 09, 2012
EVOLOGIE® Stay Clear is a brand new approach for teens and adults with acne-prone skin that suffer the agonies of pimples, blemishes and repeated breakouts. EVOLOGIE® is pleased to announce their selection as a finalist for the prestigious EDITOR'S CHOICE AWARD for SKINCARE. "CPG (consumer packaged goods) innovation and excellence drives the economy forward," said VIRGO's CEO John Siefert. And we are thrilled to be recognizing the market significance of these products with our first Editor's Choice Awards."
ABOUT EVOLOGIE
"In just two months since their launch, EVOLOGIE® Stay Clear has received incredibly positive feedback and is honored to receive their very first nomination as a finalist from such an authoritative source as SupplySide West, the leading event for the global nutraceutical industry," said Dr. Robert Nagel, CEO and Founder of EVOLOGIE®. Dr. Nagel was inspired to develop EVOLOGIE® when he sought ways to help his daughter cope with monthly pimple and blemish breakouts. Consulting with medical physician Dr. Gary Weinberger and Cosmetics Chemist Richard Brown, EVOLOGIE® Stay Clear was born.
THE EVOLOGIE® DIFFERENCE
What sets EVOLOGIE® apart from other traditional acne products is its innovative patent-pending YS3 COMPLEX®. With its YS3 COMPLEX® breakthrough delivery system, EVOLOGIE® products have been proven in extensive clinical trials to rapidly and effectively resolve pimples and blemishes, reduce the severity and frequency of future breakouts, and reduce the appearance of scars and ugly dark spots that frequently result from repeated breakouts without drying the skin.
This unique "non-drying" complex with its revolutionary delivery system and biologically active botanicals allows blemish-fighting ingredients to rapidly and effectively penetrate the normal epidermal lipid barrier to deliver these natural ingredients to where they are most needed.
"EVOLOGIE® with its patent-pending YS3 COMPLEX® represents a new paradigm in the management of pimples and blemishes," says Gary Weinberger, MD, medical director for EVOLOGIE®. A cleanser, serum and cream work together to rapidly correct existing blemishes, pimples and protect against further breakouts. EVOLOGIE® Stay Clear products have been developed by a team of experts that understand how traumatic it is to deal with eruptive problems of the skin, and how the health of your skin can affect the quality of your life.
Dr. Nagel and the EVOLOGIE® team harnessed the power of the Internet, the worldwide web and the incredible potential of social media to launch EVOLOGIE® Stay Clear. The EVOLOGIE® website is loaded with video testimonials from the trial period including one made by Dr. Nagel himself who experienced first-hand the power of his products. Consumers will find detailed yet concise product information and usage, customer care, the brand's philosophy and philanthropic undertakings. But above all, it's the intimate involvement with the consumer themselves through their feedback, comments, ideas and suggestions via Facebook, Twitter, blogs and email that are the dominant method of communication. EVOLOGIE®'s unique point of difference.
"Try it. See it. Believe it. Let the mirror be your judge" is the way Dr. Nagel puts it. "We never lose sight of the powerful emotional impact the condition of your skin can have on individual happiness and wellbeing."
For more information relating to the entire EVOLOGIE® Stay Clear line visit them on their website at http://www.evologie.com.
EVOLOGIE® CONTACT: Rosalyn (Lyn) Leigh, Public Relations, 646-203-3284, rleigh(at)evologie(dot)com.
ABOUT VIRGO
VIRGO is an information distribution company focused on the most innovative and complex business-to-business markets that fuel U.S. and world economies. Their mission is to help business professionals break through the hype, ambiguity and information deluge they experience, by offering trustworthy guidance on the decisions they need to make — be that early in their decision making process, while making a purchase decision, or following the decision when a product, service or ingredient is in use.
They do this in each of their networks by focusing on five key tenets that make the information journey fruitful: Content, Audience, Brands, User Experience and Performance Marketing.
With 19 brands including trade magazines and/or websites, trade shows and regional conferences, training and accreditation programs, and an expanding online platform, VIRGO leverages its events, publications, digital and other media to provide integrated solutions for professionals in industries including healthcare, natural products, telecommunications and self-storage.
VIRGO CONTACT: Lara Piu, Audience Marketing Manager, VIRGO Health & Nutrition Network, 480-990-1101 ext. 1068, lpiu(at)vpico(dot)com.