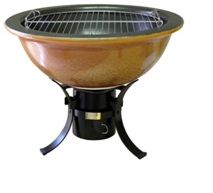 Chester,UK (PRWEB UK) 1 October 2012
2011-12 has been a phenomenal year for Grenadier which reported worldwide sales up by 10% on the previous year.
Highlights of 2011-12 for Grenadier have been:

10% increase in sales
New software integration to improve sales
New products added to existing range
Continued celebrity endorsements from Sarah Beeny and Jamie Oliver
Julian Sillito Owner of Grenadier stated " It is with great pride that I report an amazingly successful year for Grenadier . Our national and international sales have increased to a new record level for the company."
Grenadier attributes its impressive growth to continued product development and innovation, and to its dedicated staff, suppliers and partners.
Looking forward Sillito says " We are continuing our expansion into new product lines and have high expectations for sales in the coming year. Internally we have well developed processes which can deliver continued high quality."
Grenadier's latest addition of the Ceramic Fire Pit to their product range has been very successful and builds on the back of their more established products like the Ceramic Pizza Oven or their woodburning stove.
Who are Grenadier?
We are a major UK stockist, distributor and manufacturer of high quality speciality wood burning and fireside products. We have all the experience and resources expected of a leading supplier in our field which enables us to provide our customers with the products they need, when and where they need them.
Privately owned, Grenadier was established in 1989. Their head office is situated in the Chester, United Kingdom which is where their product facilities are also located.
The success of Grenadier as a company is founded on a dedication of provide the best products and unrivalled support with unmatched honesty and reliability.
In an ever-challenging world Grenadier continues to exhibit the dynamism, integrity and drive to remain a principal player in its market. The company has grown steadily to become what it is today - a multi-national, multi-product operation.
For more information visit http://www.grenadier.co.uk