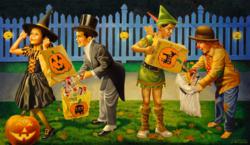 New York, NY (PRWEB) October 01, 2012
Just in time for the upcoming election (and Halloween) artist/activist Michael D'Antuono is is releasing his painting titled "Trick Or Treat?" The decievingly saccharine looking piece depicting our Presidential hopefuls as children on Halloween is actually a biting metaphor for the candidates' contrasting priorities. At first glance, viewers are lulled into the Rockwellian wholesomeness of the image. On closer inspection they realize that the artist has succintly encapsulated the fundamental difference between the two with a powerful immediacy. The painting portrays a young Romney (dressed as the Monopoly man) sneaking candy away from an unsuspecting trick-or-treater while Obama (dressed as Robin Hood) is pouring his candy into the bag of another child dressed in a hobo costume.
How much of an October suprise this piece of art will become depends largely on the amount of exposure the media decides to bestow upon it. Liberals and conservatives alike will be both elated and upset. While Democrats will no doubt enjoy the the idea of Romney being portrayed as taking from the middle-class (or at least 47%), Republicans might counter that the piece perpetuates the image of Obama as a wellfare President.
Some of D'Antuono's work can currently be seen on display in the exhibition "Party Headquarters: Art in the Age of Political Absurdity" running through Nov. 10 at the Pratt Manhattan Gallery,144 West 14th Street (212-647-7778).
You can view more of D'Antuono's paintings at http://www.ArtandResponse.com
Press Inquiries contact 845-440-6634 or info(at)ArtandResponse(dot)com