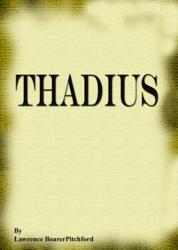 My hope is that the reader will fall into the world that I've created, only to find that hours have passed , their pulse has quickened, and their passion swelled
Sacramento, California (PRWEB) October 01, 2012
They've arrived at the Amazon book store; two new novels by author Lawrence BoarerPitchford. Yes, the man with the outrageously long last name has created two works of historical fiction that are sure to entice lovers of ancient Rome, and the American Civil War. Thadius is steeped in historical references and settings. Sawbones will allow the reader to feel like they've choked on the dust of a hundred caissons moving down the Alexandria road. "My hope is that the reader will fall into the world that I've created, only to find that hours have passed , their pulse has quickened, and their passion swelled," states Lawrence.
The cries of battle are now just a distant memory for Thadius. He has long since packed away his armor, sword, pilum and shield. Retirement in a sleepy little sea side town has suited him well. Now a widower, he bides his time gardening and spending his remaining years with his old friend Dominus drinking wine and telling tall tales of old. But, Thadius' serene world is shaken by the arrival of a desperate letter from the furthest reaches of the Republic. Summoned to the far away island of Britannia, Thadius and Dominus are driven to solve a gruesome murder. Hot on the trail of a serial killer, Thadius and Dominus find that murder is not the only thing on the killer's mind. They travel through exotic lands, mixing with barbarians of every description. Only steps behind the killer, the urgency reaches a fevered pitch as Thadius races to prevent another savage murder, and perhaps even the undoing of the Republic.
Blood and gore are commonplace for Captain LeRoy, for he is no stranger to suffering. As a Union surgeon he must patch together the twisted limbs and bloody flesh left by the ravages of war. But, now this American conflict is coming to a close, and LeRoy has dreams of returning to London and his home. In this twilight of war a dead man's satchel arrives on a litter. What is contained within might very well change the end of the war. Follow Captain Carrigan LeRoy as he and two friends' race against time to stop a devious plot.
Lawrence commented, "Thadius and Sawbones are the culmination of many years of research and work. While they are not meant to be a historical account, these two stories are reflective of the historical age. Thadius is a novel with many captivating twists and turns in the Roman world. Sawbones is a novella bathed in the light of an epic event in the history of the United States."
Lawrence BoarerPitchford works and lives in the Sacramento region. His work can be located on Amazon books, and you can read samples of his novels on his web site BoarerPitchford.com. Take a moment to explore BoarerPitchford.com and visit the author on Facebook, Twitter, and Goodreads.