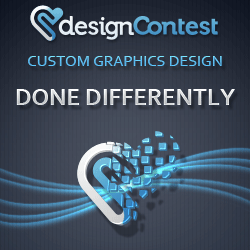 It is a significant evolution for DesignContest.com as the world's top custom graphic design platform by crowdsource
(PRWEB) October 09, 2012
The new Design Contest copyright transfer functionality provides a platform for winning designers to transfer copyright ownership to contest holders. This simplifies the copyright process and allows designers and contest holders to govern the process themselves. Contest holders will own the copyright agreement signed by the winning designer which can protect them from legal liability relating to the originality of the design.
Sharie Voss, a vastly experienced member the Design Contest team, put a great deal of work into developing the new rules and is delighted they have finally been launched: "The new copyright functionality is a terrific innovation that respects both the caliber of our designers and the needs of our clients. It is a significant evolution for DesignContest.com as the world's top custom graphic design platform by crowdsource."
All winning designers will be asked to agree and digitally sign off on a design copyright transfer document after winning a contest once the source files have been uploaded to the contest holder. Once the agreement is signed by both parties, the cash prize will be released to the winning designer. The contest holder will then own the copyright document which verifies that the design they purchased is original and unique to their company.
Design Contest was established in 2003 and provides a platform for small businesses to obtain fresh new designs for anything from T-shirts and website to business cards and company logos. Contest holders select the cash prize they wish to award for the contest, allowing designers to compete against one another by submitting imaginative designs. Design Contest also offers a range of contest categories to suit client needs, including hidden contests, which promote creativity by preventing designers from seeing each other's work. Contest holders can also choose to upgrade their contests to increase their profile or to extend deadlines until a suitable design is found.
Visit designcontest.com to view all current graphic design contests or to initiate a contest for your company. Or call 888-906-1888 from 8am – 8pm GMT or 8am – 8pm EST, Monday through Friday.