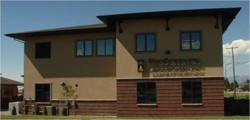 Bozeman, MT (PRWEB) October 03, 2012
BioScience Laboratories, Inc. (BSLI) is working in conjunction with the Center for Biofilm Engineering on the Campus of Montana State University, validating a method for killing biofilms grown on hard non-porous surfaces. BioScience Laboratories (BSLI) is one of ten labs from around the globe testing this method (ASTM E-2871-12).
Maggie Butler, Ph.D., and Lisa Lehman are leading this study at BSLI. This work is part of an inter-laboratory study (ILS) to determine if the method is reproducible. Darla Goeres, Ph.D., and leader of the Standardized Biofilm Methods Laboratory Team at the CBE is the technical contact for the ASTM method.
Biofilms occur when bacteria join together to form a self-organized community. A sticky slime-like matrix is formed by the community of bacteria. This matrix protects the bacteria and makes it difficult to kill and remove the biofilm from any type of surface. Biofilms can form on metals, plastics, and human tissue. Dental plaque is an example of a biofilm that has attached to the surfaces of humans teeth.The ILS training took place at the CBE at Montana State University in mid-July. Testing began in August and is scheduled to be complete by mid-December. If successful, this approved ASTM method will be one of only a few to contain a precision and bias statement regarding the reproducibility of the test.