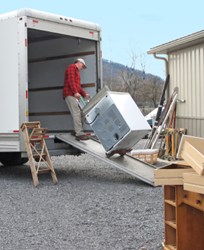 It's important for customers to be able to develop an emotional connection with a driver.
Denver, Colorado (PRWEB) October 02, 2012
Start-up company CitizenShipper.com has been connecting drivers with shipments since 2008. The site boasts over 36,000 active members, and now spans two countries having recently expanded into Canada. This week, the company launched a major upgrade to it's load board and shipping marketplace with a new mapping system that makes it easier than ever before for drivers to find delivery jobs.
"What we want to do is make the site more intuitive and easier than ever before to use." Says CEO and Founder Richard Obousy. "By adding mapping capabilities to the site we empower registered users of the site to actively hunt for shipments with an easy to use mapping interface".
With consumers demanding ever more intuitive systems, websites are having to improve their game to stay competitive. CitizenShipper knows that it's important to maintain that edge in this multi-billion dollar marketplace and strives to provide systems and interfaces that maximizes a drivers profit margin and allows him or her to use their time on the site in the most effective manner possible to find delivery jobs ranging from pets to motorcycle transport.
"When we first launched we had a very simple method of searching for shipments that involved a driver clicking through pages of shipments hunting for one that matched their desired route" Explains Obousy. "Now, you can laser-home in on a specific state, province or even zipcode to find delivery jobs to bid on."
CitizenShipper really comes into it's own with it's social web 2.0 platform giving the site a polished social feel. "Customers leave feedback on their drivers so future customers can find the really desirable members." Say's Obousy. "With pet shipments, and motorcycle shipments really trending on the site, it's important for customers to be able to develop an emotional connection with a driver so that they feel comfortable leaving their pet, or personal belongings under the drivers custodianship."
About CitizenShipper.com
CitizenShipper is an innovator in the peer to peer marketplace. Founded in 2008 and Headquartered in Denver, Colorado the company matches drivers with shipments across the US and Canada through an online reverse auction style marketplace.