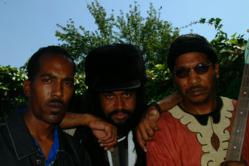 Reggae is not dead. It's not even on life support. The artists just lost focus.
Los Angeles, CA (PRWEB) October 10, 2012
Jahva, an independent roots reggae band from South Central Los Angeles, California, releases their second studio album, Armagedeon, with the mission of bringing back the heart and soul into reggae music that has been lacking in recent years.
The band, which grew out of a high school friendship, has a unique combination of Jamaican and American cultural influences that has lead to their distinct musical sound. Jahva has been creating and recording music since the late 1980s during the heights of drug and gang warfare on the streets of Los Angeles. "We're survivors of the genocide that took place and in many ways is still taking place in the black community in the United States…the ones who lived to tell the tale. We are not just a band. Jahva is a family and our shared passion and experiences are what makes us unique," said Demetrius Morrow, the band's drummer.
Over the past two decades, Jahva has witnessed the declining influence of the industry and the dissatisfaction of reggae fans around the world. The band however, remains optimistic. "You know, a lot of people would have you believe that reggae is dead. Reggae is not dead. It's not even on life support. The artists just lost focus," said Terence Forsythe, the band's lead singer and main songwriter. "A lot of people forgot their love for music, which was always the driving force, and became more interested in fame rather than creativity. So what we're experiencing now is just a result of that."
"It's no secret that there are a lot of things that need improvement in the reggae industry today but the real problem is not the record labels or even the lack of talent. There was a time when the industry produced five to seven or more classic songs per year but now we're lucky if we get one classic song every three to four years. The solution for all this is a return to great, original songs that bring people together," he explains.
Both as individuals and as a band, Jahva focuses on creating quality storytelling music that captures the human experience and inspires mankind to keep moving forward regardless of the challenges they may face. The band takes top priority in further developing and refining their music to adapt to the rapidly changing times. "If someone was to ask us to describe our sound, we would say twenty-first century roots reggae," said Forsythe. "Jahva is all about connecting with people. People are tired of these assembly-line records that the industry has been giving them for so long. What they want now is timeless music. We are determined to create new classics, so the responsibility is therefore on us as artists to deliver on that promise. It's we who must prove ourselves worthy. And if at first we don't succeed, we will keep on trying."
From the new album's lead single, "Hot Night," fans can hear the band at their innovative best, with conscious roots melodies reflecting an authentic portrayal of life on the streets. Jahva's new album, Armagedeon, is now available on iTunes. To learn more about Jahva and listen to tracks from the album, visit http://www.jahvamusic.com.