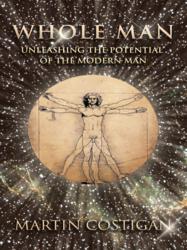 There are many books on the market for women that provide guidance for holistic living, but for men, this is a much neglected area
Deception Bay, Australia (PRWEB) October 02, 2012
Men are thought to be a fairly low maintenance species, especially when compared to their female counterparts. No legs to shave, babies to birth or two-hour beauty routines to bother with. Perhaps that's why not as much has been written on the topic of being a healthy, well-rounded man.
In Martin Costigan's new book Whole Man: Unleashing the Potential of the Modern Man, the author and homeopathic expert addresses common 'man' problems from a comprehensive, practical perspective.
"There are many books on the market for women that provide guidance for holistic living, but for men, this is a much neglected area," says Costigan. "Whole Man fills that gap in men's self-help literature."
Costigan says his book evolved from his own experiences as a man actively seeking out fulfillment, balance and holistic solutions to everyday problems without having to compromise his manhood along the way.
While Whole Man was conceived and written for men, Costigan says he's equally interested in helping women find balance in their lives.
For more information, visit martincostigan.com.
Whole Man: Unleashing the Potential of the Modern Man
By Martin Costigan
ISBN: 978-1-4525-3794-8
Approx. 91 pages
Paperback
Retail price: $20 SC (AUD); $11.99 (US)
E-book price: $3.99
Available at Amazon, Barnes & Noble, BalboaPress
About the author
Martin Costigan has academic qualifications in medical science, homeopathic medicine and education. Costigan treats people in his clinic in Brisbane, Australia, as well as nationally and internationally through his website, Living Water Homeopathy. Costigan also lectures on topics related to homeopathy and holistic living, and he has written and facilitated many retreats dedicated to the topic of personal growth. A member of the Australian Homeopathic Association, Costigan says his passion is empowering others to achieve balance and wholeness.